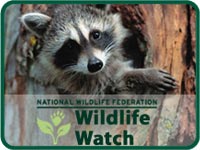 Become a Wildlife Watch Treasure Hunter
National Wildlife Federation's Wildlife Watch is a national, nature-watching program created for people of all ages. Through the program, you'll gain first hand experience with plants and animals in their natural environment and share details that help National Wildlife Federation track the health and behavior of wildlife and plant species nationwide. In return, the Wildlife Watch website keeps you up-to-date on wildlife news and facts, and new ideas for attracting wildlife to your backyard and community.
---

Tap the wealth of information in your newspaper as a teaching tool:
---

►

Mexico restricts soft drink TV ads to fight obesity
Answer FIVE Geography questions each week based on major news events.
►
Archive of Geography quizzes
---

►Federal agency warns about health risk of Alert Energy and other pure caffeine products

-- Front Page Talking Points Archive
---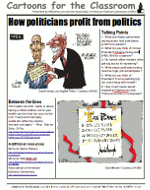 The Cartoons for the Classroom Caption Contest will return in September!
This week's lesson:
GOP leaders run from Palin proposal
►
Download the lesson
►
Archive of past lessons
►
Teacher comments
---
Audio
Daily Science Webcasts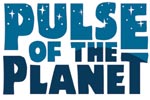 Cell Sounds - Listening
What is the sound of one cell singing?
Play Audio
-- Jul 28, 2014
---