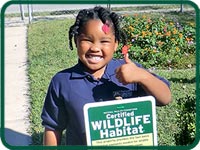 May is Garden for Wildlife Month!
Plant a Schoolyard Garden at Your School
To help reconnect today's children to the outdoors, National Wildlife Federation assists schools in developing outdoor classrooms called Schoolyard Habitats®, where educators and students learn how to attract and support local wildlife.
These wildlife habitats become places where students not only learn about wildlife species and ecosystems, but also outdoor classrooms where they hone their academic skills and nurture their innate curiosity and creativity.
Answer FIVE Geography questions each week based on major news events.