Please submit your
Verification Affidavit now!
We need your help, teachers!
We need you to complete a form to verify receipt of newspapers you requested for classroom instruction. This verification is required by our auditors and must be on file in order for you to continue receiving sponsored newspapers. Thank you for your assistance!
File not found."
---
NIESpecial Report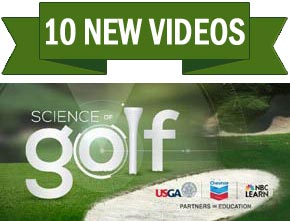 Science of Golf
This new 10-part series continues to explore the physics and math behind the game of golf. Provided by NBC Learn, in partnership with the United States Golf Association and Chevron, students will learn about calculating golfers' handicaps and golf scoring, the evolution of the golf club and ball, as well as how factors like friction, volume and energy all affect how a golf ball travels.
---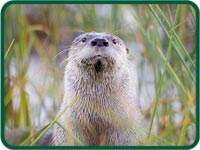 The National Wildlife Federation lesson plans are designed to introduce students to life science, ecology, wildlife biology, scientific identification and observation. All lesson plans are aligned to the National Science Education Standards and organized by grade level.

---
For Grades K-4 , week of Jan. 26, 2015

1. Long-Lost Ring Recovered
Surfing in the Pacific Ocean off the coast of California, a San Francisco Bay teenager lost his gold high school class ring when it slipped off his finger. That was 35 years ago, but now he has it back. A treasure hunter found the ring in the Bolinas Bay area where the teen had been surfing. And the inscription engraved inside led him to Robert Fowler, whom he e-mailed. The two have since met, and Fowler, now a dentist in his 50s, presented the finder, Larry Feurzeig, with a bottle of champagne as thanks. Heartwarming events often make news, because readers like "human interest" stories of people doing nice things for each other. In the newspaper or online, find a story about someone doing something nice for someone else. Read the story closely and then re-tell it in a series of comic strips. Give your strips a title and share with the class.
Common Core State Standards: Reading closely what a text says explicitly and to make logical inferences from it; using drawings or visual displays when appropriate to enhance the development of main ideas or points.
2. Rescued by Other Riders
A man trying to get on a subway train near Perth, Australia, slipped and became stuck in the gap between the train and the platform not long ago. But thanks to other riders, he was rescued unhurt. Dozens of passengers pitched in and pushed against the train, tilting it enough so that he could get his leg free. The driver had been alerted not to move the train, while station workers organized the commuters to rock it and tilt it away from the platform so they could get the man out. A transportation leader praised the effort as an example of "people power," and the man did not even have to be taken to a hospital. When people work together, they often can do things they could not do alone. In the newspaper, find a story about people working together in some way. Read it closely and then write a letter to the editor of the paper, praising the people involved for working together to get something done.
Common Core State Standards: Producing clear and coherent writing in which the development, organization and style are appropriate to the task; citing specific textual evidence when writing or speaking to support conclusions.
3. $40 Million for Dance
More than $40 million has been raised for the Alvin Ailey American Dance Theater in honor of its longtime chairwoman. Joan Weill is retiring from the board of the African American dance company after 20 years, and her husband, Sanford I. Weill, has been leading the fund-raising Campaign for Ailey's Future. The campaign supports expansion of the company's New York City building — adding rehearsal studios and educational space — and will increase its number of programs. Sanford Weill has pledged more than $16 million to date and last year agreed to match additional large gifts. Arts groups and museums often rely on donations from people in the community for the money they need to operate. In the newspaper, find a story or listing about an arts group or museum in your community or state. Read about the group or museum and brainstorm ways that it benefits the community. Then design an ad for the newspaper detailing reasons people in the community should support the group or museum with donations.
Common Core State Standards: Conducting short research projects that build knowledge about a topic; integrating information presented in different media or formats to develop a coherent understanding of a topic.
4. New Home for Bison
A group of Yellowstone National Park bison have found a new home in the state of Montana. It took nearly 10 years, but they will have a permanent home on the Fort Peck Indian Reservation, where the Assiniboine and Sioux tribes live. The bison had been captured and confined to protect cattle and other livestock from the animal disease brucellosis, which can cause health and breeding problems in affected animals. Bison can carry the disease and expose cattle to it. Bison were once important to the lives of American Indians because they provided both food and materials for clothing. What animals are important to people today? In the newspaper, find an animal that provides something that people need or use today. With the newspaper, Internet and other resources, do some research about this animal and why it is important to people. Use what you read to write a paragraph or short essay explaining why this animal is important.
Common Core State Standards: Writing informative/explanatory texts to examine a topic and convey ideas and information clearly; citing specific textual evidence when writing or speaking to support conclusions.
5. Hydrogen Car
Honda has unveiled a car that would be powered by hydrogen gas. In the ongoing effort to invent vehicles that would not run on gasoline, Honda's new FCV would be a challenger to electric cars such as Tesla's Model S and General Motors' Chevy Volt. The FCV — which will begin selling next year in the Asian nation of Japan — is designed "for people who want a zero-emission car that you can fuel up in a few minutes for a 300-mile range." There is one problem for drivers in the United States. Outside the state of California, there are no hydrogen fueling stations in the U.S. New inventions change the way people do things and the products they use. In the newspaper or online, find a story or ad involving a new invention or product. Read the material closely and write a paragraph, explaining how this invention is an improvement over the way things were done in the past. Write a second paragraph predicting what the next improvement might be to this product or invention.
Common Core State Standards: Producing clear and coherent writing in which the development, organization and style are appropriate to the task; citing specific textual evidence when writing or speaking to support conclusions.