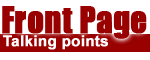 FOR THE WEEK OF JUNE 06, 2011
Health researchers send a cellphone message for everyone: There may be a cancer risk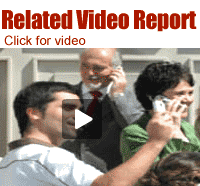 Mobile phones are part of daily life. Look for one in a photo, ad or article text -- not necessarily about possible risks.

See if you spot a different health topic in the news -- especially one that also could affect you.

Find another report on consumer electronics, such as games, music players or computers.
A new warning about possible brain cancer hazards from cellphones' radiation is the latest caution about the handheld devices many Americans use daily. Last week's finding from a World Health Organization panel of 31 scientists is based on a review of many studies of low-level magnetic fields emitted by the handsets. The organization now ranks mobile phones devices alongside some dry cleaning chemicals and pesticides as a potential health threat. Its specialists didn't comment on how large or small the risk is.
Others see no cause for alarm. "When it comes to cancer, you likely face more danger going out into the sun than you do on a cellphone," Slate e-magazine technology columnist Farhad Manjoo wrote last Thursday. To be on the safe side, though some experts recommend an earpiece. "Just keep the phone away from the head," suggests Professor.Henry Lai, who studies electromagnetic fields at the University of Washington in Seattle.
Amid the debate, five states (California, Maine, New Mexico, Oregon and Pennsylvania) are considering laws to add cellphone package warnings. San Francisco already requires shops to post the radiation levels of every model sold, a step pending in several other cities.

Parent says: "Kids attached to their phones worry me. A lifetime of that cell phone usage, starting at age 10 or 11 now, is scary." -- Nancy Hanus, Bloomfield Hills, Mich., mother of 16-year-old

Tech columnist says: "Our worries about cellphones and cancer clearly aren't based on a rational analysis of their relative risk compared with other products we use." -- Farhad Manjoo, Slate.com

Study leader says: "We found some threads of evidence about how cancer might occur, but have to acknowledge gaps and uncertainties." -- Dr. Jonathan Samet of the University of Southern California, a National Cancer Advisory Board member
Front Page Talking Points
is written by Felix Grabowski and Alan Stamm for NIEonline.com, Copyright 2013
We welcome comments or suggestions for future topics:
Click here to Comment
Front Page Talking Points Archive
►Federal safety board urges tougher drinking-and-driving cutoff limit to match other nations
►Northeast braces for noisy invasion: Flying cicada bugs return after hiding for 17 years
►U.S. military prison at Guantanamo, Cuba, remains a tricky problem for President Obama
►Doctors warn about serious health risks from 'The Cinnamon Challenge' video craze
►Earth Day on April 22 focuses attention on how we can protect the natural environment
►Thousands of past players take on the National Football League over brain injuries
►North Korean missile threats create concern and U.S. show of military force
►South Africa reflects on the huge legacy of Nelson Mandela, hospitalized at 94
►They come from space: NASA seeks money to spot and deflect risks from large asteroids
►This 'March Madness' basketball tournament season is special – the 75th in history