Common Core State Standard
SL.CCS.1/2/3/4 Grades 6-12: An essay of a current news event is provided for discussion to encourage participation, but also inspire the use of evidence to support logical claims using the main ideas of the article. Students must analyze background information provided about a current event within the news, draw out the main ideas and key details, and review different opinions on the issue. Then, students should present their own claims using facts and analysis for support.
FOR THE WEEK OF MAR. 05, 2012
Republicans who want to be president compete for big bounty on Super Tuesday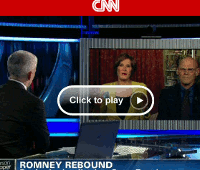 Find news coverage of Super Tuesday primaries, either in advance or with results on Wednesday. Are explanations clear or are there unfamiliar terms?

Now look for opinion content, such as an editorial cartoon, column or reader letter about the presidential campaign.

Are politicians or candidate supporters from your area quoted in any Super Tuesday report?
Get set for the largest day of voting so far in the Republicans' topsy-turvy presidential primary race. With contests in 10 states and 419 nominating delegates up for grabs, the day called Super Tuesday could be a turning point for the two leading candidates – Mitt Romney, a former Massachusetts governor, and Rick Santorum, an ex-senator from Pennsylvania who hasn't won in any state since Feb. 7. Newt Gingrich and Ron Paul also have meaningful support.
Romney and Santorum are in a close race in Ohio, a large industrial state with 66 delegates. It's seen as the main prize March 6, when voting also takes place in Virginia, Massachusetts, Oklahoma and as far west as Alaska. Gingrich, who represented Georgia in the U.S. House for years, leads in polls there and could earn most of its 76 delegates. Santorum's scrappy campaign faces its biggest test yet. He lacks the paid staff and local offices of his three rivals and is being greatly outspent. "We need someone who can go out and make the case, not with the most money, but with the best ideas," Santorum (pronounced Saant-ORE-rum) said this past weekend in Bowling Green, Ohio.
Romney leads in national convention delegates with 182 after winning primaries last week in Michigan and Arizona and caucuses Saturday in Washington state. To be nominated at the party convention in Tampa this August, a candidate needs 1,144, so the fight definitely stretches past this week. That's what party leaders wanted then they set up an extended primary season, intended to give more states and more Republicans a say in picking the nominee. "We wanted to give every candidate a fair shot to make their case to the Republican base," says former party chairman Michael Steele. "We wanted to make it competitive. The members were tired of the nomination fight being over in six weeks."

Rick Santorum says: "This is a marathon, not a sprint,. We're going to keep working. We're doing well, and we feel like this race is narrowing." -- Campaigning in Ohio March 3

Professor says: "The key state is Ohio. If Santorum is successful, then doubts about Romney will continue to escalate. If Romney wins Ohio, Santorum will be in a real uphill battle the rest of the way." -- Merle Black, professor of politics and government at Emory University in Atlanta

Blogger says: "Romney has a large delegate lead, which will most likely be even larger after Tuesday. What will really matter is whether the party and the press agree that it's essentially over." -- Jonathan Bernstein, Washington Post blog March 2
Front Page Talking Points
is written by Alan Stamm for NIEonline.com, Copyright 2015
We welcome comments or suggestions for future topics:
Click here to Comment
Front Page Talking Points Archive
►Barrier falls: First female Army Rangers show that strength comes in both genders
►In the forecast: Extra warmth and wetness from a strong 'El Nino' weather pattern
►Jon Stewart, a TV funnyman with a serious edge, earns wide praise as 16-year run ends
►Is it a movie or real life? Learning the difference is entertaining -- and educational
►Biochemist's sexist remarks at science conference shine attention on gender bias in labs
►Distant frontier: Nine-year trip to Pluto delivers historic photos and data
►Millennial generation dominates America's population, new figures show
►Flag lowering: S.C. church attack widens opposition to Confederate symbol
►'Jurassic World:' Hit film feeds interest in dinosaurs, but be careful what you believe
►U.S. team chances remain alive in women's World Cup matches