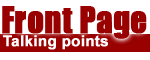 FOR THE WEEK OF SEP. 03, 2012
Health departments mobilize against mosquito-carried West Nile virus, more widespread than usual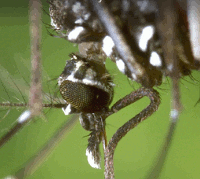 Find other health or medical news that could affect your community.

Look for tips or information on healthful eating, exercise or other activities.

Now see if you spot an ad for food or a product designed to appeal to health-conscious people.
This summer's mosquitoes brought more than pesky buzzing and bites. About 1,600 cases of West Nile virus have been reported nationwide, more than four times the typical level and one of the worst outbreaks ever. Insecticides are being sprayed from trucks and planes to combat the virus-carrying mosquitoes, which get West Nile from infected birds. Texas is particularly hard-hit, with officials reporting more than 700 infections and at least 31 deaths. The mayor of Dallas approved aerial spraying for the first time since 1966.
The virus may cause weeks of disorientation, vision loss and even temporary paralysis. In extreme cases, nerve damage can be permanent. There's no vaccine to prevent the virus and no medicine to cure it.
Health officials are unsure why this outbreak is worse than earlier ones. Personal precautions include wearing long sleeves and pants, staying inside at dawn and dusk when insects are active, putting insect repellent on bare skin and eliminating mosquito-breeding areas such as bird baths, wading pools or other standing water.

Federal doctor says: "The number of West Nile disease cases in people has risen dramatically. We are in the midst of one of the largest West Nile outbreaks ever seen." – Dr. Lyle Petersen, Centers for Disease Control

State official says: "I have my own can of Deep Woods OFF that I'm pretty religious about putting on. Preventive measures are the key thing." -- Kimberly Mitchell, Maryland Department of Health

Professor says: "The benefits of these [aerial] sprays far, far outweigh the risk. The materials they are using are the same pesticides you would use to spray the vegetables in the garden or some of the pests that invade your home. These are relatively safe materials." -- Mike Raupp, University of Maryland College of Agriculture
Front Page Talking Points
is written by Alan Stamm for NIEonline.com, Copyright 2013
We welcome comments or suggestions for future topics:
Click here to Comment
Front Page Talking Points Archive
►Federal safety board urges tougher drinking-and-driving cutoff limit to match other nations
►Northeast braces for noisy invasion: Flying cicada bugs return after hiding for 17 years
►U.S. military prison at Guantanamo, Cuba, remains a tricky problem for President Obama
►Doctors warn about serious health risks from 'The Cinnamon Challenge' video craze
►Earth Day on April 22 focuses attention on how we can protect the natural environment
►Thousands of past players take on the National Football League over brain injuries
►North Korean missile threats create concern and U.S. show of military force
►South Africa reflects on the huge legacy of Nelson Mandela, hospitalized at 94
►They come from space: NASA seeks money to spot and deflect risks from large asteroids
►This 'March Madness' basketball tournament season is special – the 75th in history