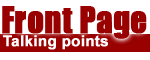 FOR THE WEEK OF OCT. 10, 2011
Was media coverage of 'Occupy Wall Street' blacked out, or did it just evolve?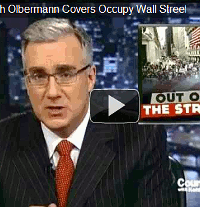 Members of the media often criticize each other. Find examples of media criticism in newspapers and on television.

See if you can find news stories online that have been ignored by big newspapers and television networks. Evaluate the importance and reliability of those news reports.

Compare how different newspapers and networks cover the same event - like the Wall Street protests.
In the early days of the Occupy Wall Street protests, which began on Sept. 17, coverage was all but nonexistent in the mainstream news media.
However, reporting has increased significantly in recent days after clashes with police and as the protests over income inequality and joblessness grew and spread to other cities.
A study of the database NewsLibrary.com, a compendium of about 4,000 news outlets in the United States, found that coverage spiked after New York protesters were hit with pepper spray on Sept. 24. Coverage jumped much more after mass arrests on the Brooklyn Bridge on Oct. 1.
Critics like television commentator Keith Olbermann complained about the sluggish coverage and others talked of a "blackout" by media owned by large corporations. They said media was quick to cover demonstrations by Tea Party conservatives but avoid mention of protesters who criticize corporations like Wall Street banks.
Some media commentators said protests are so commonplace and boring that they don't merit much coverage. They say they only should reported when they grow very large, very long or violent.

Columnist says: "I did everything in my power to prevent my reporters from covering demonstrations like the Occupy Wall Street protest . . . because even awful books are more compelling than your generic Washington demonstration." -- Jack Shafer, Reuters

Reporter says: "A lot of people in newsrooms still are not in touch with the real pain and the real suffering of 25 million who are unemployed and underemployed." Will Bunch, Philadelphia Daily News

Comedian says: "The Occupy Wall Street movement . . . has spread to cities all around the country, causing the media to move its 'coverage dial' from 'blackout' to 'circus.' It's too bad, those are the are the only two settings it has." -- Jon Stewart, The Daily Show
Front Page Talking Points
is written by Alan Stamm for NIEonline.com, Copyright 2013
We welcome comments or suggestions for future topics:
Click here to Comment
Front Page Talking Points Archive
►Federal safety board urges tougher drinking-and-driving cutoff limit to match other nations
►Northeast braces for noisy invasion: Flying cicada bugs return after hiding for 17 years
►U.S. military prison at Guantanamo, Cuba, remains a tricky problem for President Obama
►Doctors warn about serious health risks from 'The Cinnamon Challenge' video craze
►Earth Day on April 22 focuses attention on how we can protect the natural environment
►Thousands of past players take on the National Football League over brain injuries
►North Korean missile threats create concern and U.S. show of military force
►South Africa reflects on the huge legacy of Nelson Mandela, hospitalized at 94
►They come from space: NASA seeks money to spot and deflect risks from large asteroids
►This 'March Madness' basketball tournament season is special – the 75th in history