Daily Science Webcasts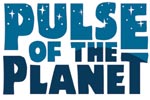 Corn - Monoculture
Fewer varieties of corn threatens the heritage of a Mesoamerican culture.
Play Audio
-- May 23, 2013
---
Science Diary Bears - Melatonin
Melatonin regulates the sleep-wake cycle for humans and other animals. Strangely, bears who are masters of hibernation, seem to produce very little melatonin.
Play Audio
-- May 22, 2013
---
Science Diary: Bears - Overview
What biological mechanisms tell a bear when it's time to hunker down for the winter and awaken in the spring?
Play Audio
-- May 21, 2013
---
Will We Colonize Mars?
The Apollo astronauts reported seeing strange flashes of light, a clue that high levels of radiation could effect futue space flight and colonies.
Play Audio
-- May 20, 2013
---
Caves - Diving
Scientists investigating underwater caves must brave dangerous conditions.
Play Audio
-- May 17, 2013
---
Each weekday, Pulse of the Planet provides its listeners with a two-minute sound portrait of Planet Earth, tracking the rhythms of nature, culture and science worldwide and blending interviews and extraordinary natural sound. Get more info.
Distributed by NIEonline.com.