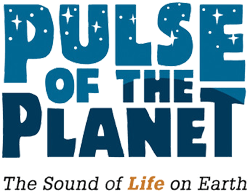 Each weekday, Pulse of the Planet provides its listeners with a two-minute sound portrait of Planet Earth, tracking the rhythms of nature, culture and science worldwide and blending interviews and extraordinary natural sound.
Get more info.
Distributed by NIEonline.com
---
Passenger Pigeons - De-extinction
Will it ever be possible to clone a Passenger Pigeon ? Perhaps, but is it a good idea?
-- Dec 11, 2013
---
Passenger Pigeons - They Darkened the Skies
Once thought to be one of the most abundant bird species on earth, Passenger Pigeons were hunted to extinction 100 years ago.
-- Dec 10, 2013
---
Owl Feathers - Mechanics of Silent Flight
A raptor biologist reveals the uncanny resources of an owl's stealthy flight.
-- Dec 9, 2013
---
Owl Feathers - Nocturnal
The silent flight of the nocturnal owl aids its ability to catch prey at night.
-- Dec 6, 2013
---
Science Frontiers - Dark Energy
If we could harness it in some way, could dark energy be used as a power source?
-- Dec 5, 2013
---