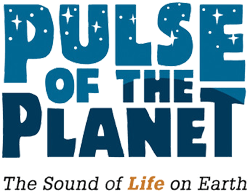 Each weekday, Pulse of the Planet provides its listeners with a two-minute sound portrait of Planet Earth, tracking the rhythms of nature, culture and science worldwide and blending interviews and extraordinary natural sound.
Get more info.
Distributed by NIEonline.com
---
Kincentric Ecology - Breath
All of nature shares the same breath, so believe the Raramuri peoples of Mexico.
-- May 28, 2015
---
Kincentric Ecology - Language
The language of the Raramuri people is interwoven with the elements of nature.
-- May 27, 2015
---
Kincentric Ecology - Family
All of nature is kindred to the people of the Raramuri culture in Mexico.
-- May 26, 2015
---
In Praise of Dungbeetles
Dung beetles of the Amazon bring new meaning to the word "recycling".
-- May 25, 2015
---
Storks - Homing
Pairs of white storks amaze Hungarians by returning year after year to nest in the exact same spot.
-- May 22, 2015
---