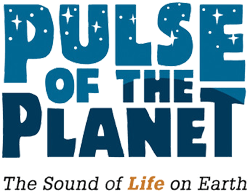 Each weekday, Pulse of the Planet provides its listeners with a two-minute sound portrait of Planet Earth, tracking the rhythms of nature, culture and science worldwide and blending interviews and extraordinary natural sound.
Get more info.
Distributed by NIEonline.com
---
Storm Ecology - Trickle Down
Heavy storms cause a lot more than water to come trickling down into our rivers.
-- Oct 21, 2014
---
Storm Ecology - Light
Stuart Findlay tells us about the un-seeen effects of storms on the ecosystem.
-- Oct 20, 2014
---
Storm Ecology - Fish and Flood
Environmental Analyst Bob Adams tells us what a flood could possibly mean to a fish.
-- Oct 17, 2014
---
Lumenhaus - House of the Future
This house of the future uses less energy than it produces in the course of a year. To learn more, visit lumenhaus.com.
-- Oct 16, 2014
---
Lumenhaus - Smart Space
Lumenhaus is a solar house designed with a zero carbon footprint, and its interior demonstrates how less can definitely be more.
-- Oct 15, 2014
---