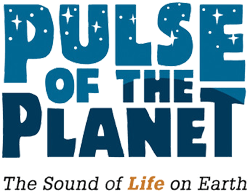 Each weekday, Pulse of the Planet provides its listeners with a two-minute sound portrait of Planet Earth, tracking the rhythms of nature, culture and science worldwide and blending interviews and extraordinary natural sound.
Get more info.
Distributed by NIEonline.com
---
Cell Sounds - Listening
What is the sound of one cell singing?
-- Jul 28, 2014
---
Cell Sounds - Noise
"With a song in my cell?" Yes, even the building blocks of life have gotten into the act.
-- Jul 25, 2014
---
Sea Otter - Breaking The Human Bond
Marine biologists play surrogate mom to injured sea lions, taking care that their young charges don't get too attached to them.
-- Jul 24, 2014
---
Sea Otter - Recovery
Once hunted for their fur, Sea Otters have been saved from extinction thanks to the efforts of conservation biologists.
-- Jul 23, 2014
---
Wrens of Ecuador - Choral Song
The call of the Plain-Tailed Wren may be the most complex non-human song in nature.
-- Jul 22, 2014
---