Common Core State Standard
SL.CCS.1/2/3/4 Grades 6-12: An essay of a current news event is provided for discussion to encourage participation, but also inspire the use of evidence to support logical claims using the main ideas of the article. Students must analyze background information provided about a current event within the news, draw out the main ideas and key details, and review different opinions on the issue. Then, students should present their own claims using facts and analysis for support.
FOR THE WEEK OF AUG. 18, 2014
Fatal police shooting of unarmed teen focuses national attention on Ferguson, Missouri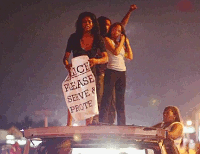 Read today's news from Ferguson and discuss whether positive developments outweigh negative ones.

Find an editorial, opinion column or reader letter about the situation. List one or more statements you agree with.

Photos from the St. Louis suburb have been dramatic and emotionally powerful. Select one and tell what feelings it creates in your mind.
A week of street unrest at night, peaceful protests and national attention have followed the Aug. 9 police shooting of 18-year-old Michael Brown in Ferguson, Mo., near St. Louis. The unarmed teen died after being shot multiple times. He had no record of arrests or criminal convictions. Missouri Highway Patrol officers, sent by the governor after city police and county deputies couldn't restore order, are trying to control looting, vandalism and fires. A curfew began Saturday from midnight to 5 a.m. and Missouri National Guard patrols began Monday.
The circumstances of Brown's shooting still are unclear. Police say he roughed up a store clerk moments earlier while taking a box of cigars, though the chief adds that the officer involved didn't know that at first. The official account is that a struggle began when Brown was stopped around midnight because he and a friend were walking in the street. The U.S. Justice Department is conducting a civil rights investigation of the case and a federal medical examiner will conduct a new autopsy on Brown's body. Atty. Gen. Eric Holder plans to visit the city on Wednesday.
Sixty-nine percent of Ferguson's 21,000 residents are African American, but just three of its 53 police officers are black. At times early last week, the small city resembled a battlefield with tear gas clouds and police carrying assault rifles while wearing riot gear. That prompts discussions about whether federal grants should continue helping local law enforcers get surplus military weapons and armored vehicles. "It looked a little bit more like a war zone and that's not acceptable," Gov. Jay Nixon said when he deployed the highway patrol. Amid the tensions one night, police arrested two non-local reporters accused of loitering in a McDonald's. They soon were freed without charges. "It's clear the Ferguson chief is overwhelmed by the magnitude of this incident," says Daniel Isom, a retired St. Louis police chief.

Police chief says: "I've been trying to increase the diversity of the department ever since I got here. Race relations is a top priority right now." – Chief Thomas Jackson of Ferguson, Mo.

Editorial says: "The response — resembling something out of a bad action movie, and including a clampdown on peaceful protest — has been wholly out of proportion." – New York Daily News

Family attorney says: "The police strategy of attempting to blame the victim will not divert our attention from being focused on the autopsy, ballistics report and the trajectory of the bullets that caused Michael's death and will demonstrate to the world this brutal execution of an unarmed teenager." – Benjamin Crump, representing teen's family
Front Page Talking Points
is written by Alan Stamm for NIEonline.com, Copyright 2014
We welcome comments or suggestions for future topics:
Click here to Comment
Front Page Talking Points Archive
►Fatal police shooting of unarmed teen focuses national attention on Ferguson, Missouri
►NBA turning point: San Antonio Spurs hire Becky Hammon as assistant coach
►Stay out of tanning booths and limit outdoor sun exposure, the government warns
►Federal agency warns about health risk of Alert Energy and other pure caffeine products
►Israeli response to missiles from Gaza spurs debate over media fairness and balance
►This only sounds like science fiction: Driverless cars roll closer to reality
►Surprise: Some Facebook users were in an experiment they didn't know about
►New twist in Washington Redskins team name controversy: Trademark status is at risk
►New federal student loan break puts an income-based lid on monthly payments
►Uneasy homecoming: Controversies accompany U.S. soldier's release by Taliban in Afghanistan