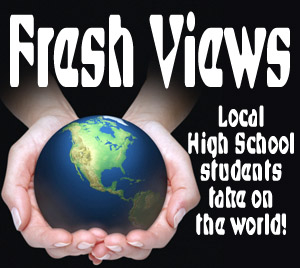 Step onto any high school campus and you'll feel its energy. Each school is turbocharged with the power of young minds, bodies, hearts and spirits.
Here on the Western Slope, young citizens are honing and testing their skills to take on a rapidly changing world. Largely thanks to technology, they are in the midst of the most profound seismic shift the world has ever seen.
Perhaps no time in our history has it been more important to know what our youth are thinking, feeling and expressing. In their school newspapers, they not only comment on high school issues and life in western Colorado, but expand their horizons by grappling with national and international issues, as well.
The Sentinel is proud to spotlight some of their writing, photography and artwork. During summer break we're featuring selections from spring editions of The Catalyst, produced at Fruita Monument High School, and the Orange & Black, the school newspaper at Grand Junction High School. You'll also find a link to an innovative website produced by students at Palisade High School.
We hope you enjoy a fresh take on the world.
---
---
Online ordering
Now you can register online to start getting replica e-editions in your classroom.
---
Sponsors needed
Even small donations make a big difference in a child's education.
If you are interested in becoming a Partner In Education, please call 970-256-4299 or e-mail nie@GJSentinel.com