Common Core State Standard
SL.CCS.1/2/3/4 Grades 6-12: An essay of a current news event is provided for discussion to encourage participation, but also inspire the use of evidence to support logical claims using the main ideas of the article. Students must analyze background information provided about a current event within the news, draw out the main ideas and key details, and review different opinions on the issue. Then, students should present their own claims using facts and analysis for support.
FOR THE WEEK OF MAR. 03, 2014
'My Brother's Keeper' is Obama's name for effort to help at-risk young men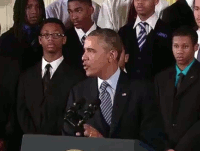 Look for news about a program serving young people, locally or somewhere else.

Can you spot coverage of risks or challenges that could get in the way of a young man's success?

Now try to find an education article that's an example of extra support for student or families.
A new White House program with a biblical name -- My Brother's Keeper -- enlists foundations and companies to test ways of supporting at-risk young minority men. Those allies have pledged $200 million over the next five years for projects to keep more African American and Latino boys in school and out of the criminal justice system. "Data shows that boys and young men of color, regardless of socio-economic background, are disproportionately at risk throughout the journey from their youngest years to college and career," says a White House fact sheet about the initiative.
President Obama says he wants "to help more young men of color, facing especially tough odds, to stay on track and reach their full potential so that America can reach its full potential. . . . Fifty years after Dr. [Martin Luther] King talked about his dream for America's children, the stubborn fact is that the life chances for the average black or brown child in this country lag behind by almost every measure and are worse for boys and young men." (See video below.)
Those working with the federal government include Magic Johnson Enterprises, a company founded by the former Los Angeles Lakers basketball star, McDonald's, the Knight Foundation, the Ford Foundation and the National Basketball Association. These supporters and others will study programs that work well in some cities and states and figure out how to expand them nationally. Examples include an intensive tutoring and guidance effort in Chicago, a Miami program to reduce school dropout rates and a Los Angeles push to reduce school suspensions.

President says: "The group that is facing some of the most severe challenges in the 21st century, in this country, are boys and young men of color." – Feb. 28 White House event

Columnist writes: "This will not be easy. . . . But we must start somewhere." – Charles Blow, New York Times

Program name's origin: In Genesis, a part of the Bible, Cain says: "Am I my brother's keeper?"
Front Page Talking Points
is written by Alan Stamm for NIEonline.com, Copyright 2014
We welcome comments or suggestions for future topics:
Click here to Comment
Front Page Talking Points Archive
►'My Brother's Keeper' is Obama's name for effort to help at-risk young men
►This season of wicked weather brings above-normal ice coverage on all Great Lakes
►Warm days make the last week of Olympic action in Russia seem like the Spring Games
►Major drugstore chain will stop selling tobacco items as improper for a health retailer
►Get set to cheer skaters, skiers, boarders, bobsledders and other Olympians in Sochi
►Super Bowl brings Seahawks-Broncos showdown outdoors in winter weather
►Outcry in New Jersey: Gov. Chris Christie is in a jam over bridge traffic jams
►Martin Luther King Day next Monday honors his civil rights leadership
►Preview of upcoming tech products: New gaming system, 'smart clothing,' combo laptop-tablet
►GM's new female leader shows 'women they are valued and they have a shot' at promotions