Common Core State Standard
SL.CCS.1/2/3/4 Grades 6-12: An essay of a current news event is provided for discussion to encourage participation, but also inspire the use of evidence to support logical claims using the main ideas of the article. Students must analyze background information provided about a current event within the news, draw out the main ideas and key details, and review different opinions on the issue. Then, students should present their own claims using facts and analysis for support.
FOR THE WEEK OF MAY 02, 2011
World reacts to the death of bin Laden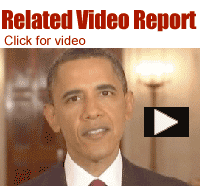 Look for local stories about the reaction to the killing of bin Laden. How does the newspaper go about localizing an international story?

A major component in coverage will be the "What's Next?" angle. What are some of the predictions you can find?

The editorial page will probably also voice an opinion on the momentous event in the next few days. Do you agree or disagree with their opinions?
Spontaneous celebrations broke out in a number of cities late Sunday night as the world learned that the mastermind of the worst terrorist attack on American soil is dead. Almost 10 years after the attacks that killed more than 3,000 people, President Obama announced late Sunday night that Osama bin Laden was killed by U.S. special forces in Pakistan.
Hundreds of people arrived at the White House late Sunday night and chanted, "USA! USA!" for hours. Large crowds also gathered in celebration in New York's Time Square and at Ground Zero well after midnight.
Internet users turned to Twitter and Facebook to post celebratory messages from across the globe.
"The death of bin Laden marks the most significant achievement to date in our nations effort to defeat Al Qaeda," Obama said in a dramatic late-night televised address that was watched around the world.

On the Internet: "Bin Laden is finally&.dead! I'm the happiest arab on the planet!"
-- Tweet by @randajarrar via the Wall Street Journal

The President's announcement: "On nights like this one we can say to those families who have lost loved ones to al Qaedas terror: Justice has been done."
-- President Obama

9/11 survivors and families: "It cannot ease our pain, or bring back our loved ones. It does bring a measure of comfort that the mastermind of the September 11th tragedy and the face of global terror can no longer spread his evil."
-- Gordon Felt,
President of the Families of Flight 93
Front Page Talking Points
is written by Felix Grabowski and Alan Stamm for NIEonline.com, Copyright 2017
We welcome comments or suggestions for future topics:
Click here to Comment
Front Page Talking Points Archive
►Presidential swearing-in: Ceremonies, parade and dancing on a historic Friday in Washington, D.C.
►Fake news, Part 2: How to be a smart reader who isn't tricked by viral nonsense
►Fake news, Part 1: Made-up stories shared widely online can have a real impact, 2016 events show
►Energy and environment: Tribe wins North Dakota oil pipeline fight -- for now
►Donald Trump's media criticisms and provocative tweets push journalists to explore different coverage
►Fidel Castro, longtime leader of Cuba's Communist revolution, dies at age 90 in Havana
►Bargain-hunters will bolt from Thanksgiving tables to catch holiday gift sales
►These issues and plans are atop Donald Trump's agenda as our next president prepares to lead
►Election drama beyond the presidential race: Which party will have a U.S. Senate majority next term?
►World Series has extra drama as the Cubs and Indians each struggle to end many decades without a championship