Common Core State Standard
SL.CCS.1/2/3/4 Grades 6-12: An essay of a current news event is provided for discussion to encourage participation, but also inspire the use of evidence to support logical claims using the main ideas of the article. Students must analyze background information provided about a current event within the news, draw out the main ideas and key details, and review different opinions on the issue. Then, students should present their own claims using facts and analysis for support.
FOR THE WEEK OF JAN. 16, 2012
Be polite and safe: Stash your phone while walking or during other activities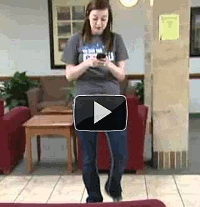 Look for an article, photo or ad with a cellphone.

See if this newspaper offers a phone app and news alerts via text messages.

List or discuss cellphone benefits, including their role in daily journalism.
Don't be surprised if public texting and other cellphone use draws harsh stares, glares and grumbles -- especially if you're walking in busy areas or talking in quiet spaces. The year starts with a chorus of reminders about courteous, safe use of hand-held electronics.. "A common and serious-minded accord appears to be forming," best-selling author Bob Greene wrote at CNN's website this month. His essay's headline: "Is 2012 the year to hang up the phone?"
More attention is being paid to physical risks from looking at a keypad while walking -– or, even worse, driving. Ohio State University researchers are documenting a rise in emergency room visits by pedestrians hurt while using a cellphone to talk or text, a number that doubled to more than 1,000 from 2006 to 2008. A New York filmmaker has documented the hazards of texting while trying to navigate sidewalks there, just as students at Midwestern State University in Wichita Falls, Texas, do in the video below. When people "are walking while text messaging, their field of view is impaired, and this can render a three-block walk to Starbucks somewhere between infuriating and life-threatening," filmmaker Casey Neistat wrote in The New York Times last week.
In a New Year's Day newspaper essay titled "The Joy of Quiet," author Pico Iyer confessed: "I've yet to use a cellphone and I've never Tweeted or entered Facebook." While he's not suggesting that for everyone, he feels the "children of tomorrow . . . will crave nothing more than freedom, if only for a short while, from all the blinking machines, streaming videos and scrolling headlines that leave them feeling empty and too full all at once."
As for phone use while driving, the National Transportation Safety Board urges a nationwide ban that includes hands-free devices. Some states have taken that step. "No call, no text, no update is worth a human life," says Deborah Hersman, who chairs the federal safety board

Author says: "The average American teenager sends or receives 75 text messages a day. . . . We barely have enough time to see how little time we have." –- Pico Iyer, New Year's Day essay in The New York Times.

Filmmaker says: "Let's stop acting like hollowed-out zombies. . . . By mastering the etiquette of texting, I hope we can gain more control over our increasingly electronic lives." -- Casey Neistat

Workplace cell use: "In the days before cell phones, if business owners had been asked to allow their employees to install personal phone lines and use the phones whenever they wished, it would have sounded like a joke. . . . But in the wireless era, it happened almost before anyone noticed." –- Bob Greene, author
Front Page Talking Points
is written by Alan Stamm for NIEonline.com, Copyright 2016
We welcome comments or suggestions for future topics:
Click here to Comment
Front Page Talking Points Archive
►Harriet Tubman will be the new face of $20 bills as paper money gets more diverse
►Bleached-out coral shows alarming impact of warmer oceans
►Futuristic vision: Virtual reality headsets take videos, training and gaming to a new level
►End of an era: Sea World yields to critics of killer whale shows, which will change
►Supreme Court seat showdown: Republican senators vow to block President Obama's nominee
►President Obama visits Havana this week as the next step in closer U.S.-Cuba relations
►Legal standoff between Apple and FBI involves iPhone privacy and mass shooting investigation
►Presidential campaign: Republican and Democratic nomination races are lively
►Uber driver charged in Michigan shootings adds to concerns about the ride service
►Political showdown: Will the Republican-led Senate let the president fill Supreme Court opening?