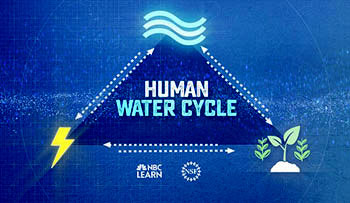 Narrated by Anne Thompson of NBC News, the four-part video series draws on fundamental scientific research conducted to improve the way we use water efficiently and effectively. Viewers will learn how the vital aspects of human life – water, food, and energy – are reliant upon each other.
"A sustainable water supply is essential for a variety of interconnected human needs, from drinking water to electricity," said Barry Johnson, NSF acting assistant director for engineering, which co-funded the videos with NSF's Geosciences Directorate. "To meet our water needs in the future will require research and new water technologies for purification, smart agriculture, energy-positive water treatment and more."
Viewers can learn more about the series and join the discussion by using the hashtag #HumanWaterCycle on Twitter.
Human Water Cycle: Water, Food and Energy
Scientists and engineers, including Greg Characklis at the University of North Carolina at Chapel Hill, are studying the connections between water, food and energy in the human water cycle to develop new, sustainable ways of meeting our water needs
---
Human Water Cycle: Drinking Water
Safe, clean drinking water is a fundamental human need. Orlando Coronell at the University of North Carolina at Chapel Hill is developing improved membrane technology to purify drinking water more effectively and efficiently.
---
Human Water Cycle: Agriculture
Soil salinization prevents crops from taking up water and nutrients due to an excess of salt in the soil. Meagan Mauter at Carnegie Mellon University is developing technology to monitor salinity levels to allow farmers to make better watering decisions.
---
Human Water Cycle: Wastewater
Wastewater is what gets flushed down the toilet, rinsed down the drain, and produced by places such as factories, workplaces, and homes. Kartik Chandran at Columbia University is changing the perception of wastewater by treating it more efficiently and creating energy from resources found in it.
---
Distributed by NIEonline.com with permission
About NBC Learn
NBC Learn is the educational arm of NBC News dedicated to providing resources for students, teachers, and lifelong learners. The online resources NBC Learn has created for the education community leverages nearly 80 years of historic news coverage, documentary materials, and current news broadcasts. Currently two offerings, NBC Learn K12 and NBC Learn Higher Ed, give students and teachers access to thousands of video clips from the NBC News archives, including great historic moments--from the Great Depression to the Space Race to the latest political coverage. NBC Learn also offers primary source materials, lesson plans and classroom planning resources, and additional text and image resources from our content partners. For more information, visit www.nbclearn.com.
---
About the National Science Foundation
The National Science Foundation (NSF) is an independent federal agency that supports fundamental research and education across all fields of science and engineering. In fiscal year (FY) 2010, its budget is about $6.9 billion. NSF funds reach all 50 states through grants to nearly 2,000 universities and institutions. Each year, NSF receives over 45,000 competitive requests for funding, and makes over 11,500 new funding awards. NSF also awards over $400 million in professional and service contracts yearly.