---
Additional Resources for Your Classroom


Find over 300 resources that include teacher guides, student supplements, teacher training modules and so much more.

Common Core State Standard
SL.CCS.1/2/3/4 Grades 6-12: An essay of a current news event is provided for discussion to encourage participation, but also inspire the use of evidence to support logical claims using the main ideas of the article. Students must analyze background information provided about a current event within the news, draw out the main ideas and key details, and review different opinions on the issue. Then, students should present their own claims using facts and analysis for support.
FOR THE WEEK OF SEP. 22, 2014
Auto racing goes green: Battery-powered cars reach 140 mph in new Formula E series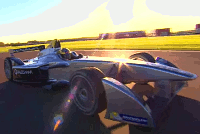 Find another example of environment-related coverage and tell why it makes you glad or sad.

Try to spot a story or photo that shows how passenger cars also are changing.

Now look for news about any form of transportation and discuss how it has changed since your grandparents were kids.
It had ultra-fast cars, a 25-lap course and 75,000 spectators – but the Beijing ePrix this month was unlike any previous race. None of the competitors in China's capital used a drop of liquid fuel or emitted any pollution. The event, won by a Brazilian driver, opened the world's first fully electric motor racing series -- with battery-powered cars that reach 60 miles per hour in three seconds and have a top speed of 140 mph. The goal is to support electric car technology and attract a new generation of fans.
The 10-city Formula E series also includes Berlin, Buenos Aires, Monte Carlo in Monaco, Miami and Long Beach, Calif. The series ends in London next June. Ten teams with two cars each compete in one-hour races, with drivers changing cars during a single pit stop because the battery lasts only about half an hour at high speed. Another drawback: The massive batteries weigh nearly 800 pounds.
"Right now, we are going to be going about 25 to 30 minutes with the battery at 130 to 140 miles and hour," says Michael Andretti, a former race car driver who has a Formula E team. "Five years from now, we'll probably be going 200 miles an hour with a battery that is half the weight that goes two or three times farther. That is what competition does." The electric car's motor emits an 80-decibel whir, about the same as a garbage disposal, compared with 130-decibel Formula One cars that sound like jet engines. Chinese officials and auto executives speak of putting five million electric cars – slower ones – on the road by 2020 in an effort to cut pollution.

Driver says: "The driver that can make the battery last while being fast will be the guy or girl at the front at the end. We will have to think very strategically." – Sam Bird of the Virgin Racing team from Britain

Organizer says: "We expect this championship to become the framework for research and development around the electric car, a key element for the future of our cities." – Alejandro Agag, Spanish businessman

Team executive says: "It's real, it's fast, and it's the future." – Steven Lu, China Racing Team chief executive
Front Page Talking Points
is written by Alan Stamm for NIEonline.com, Copyright 2014
We welcome comments or suggestions for future topics:
Click here to Comment
Front Page Talking Points Archive
►Auto racing goes green: Battery-powered cars reach 140 mph in new Formula E series
►Videogame 'athletes:' Are you college scholarship material?
►Meet an extinct beast: Newly identified dinosaur had a 37-foot neck, 30-foot tail
►E-cigarettes prompt new health concerns about young users, targeted with ads and flavors
►Strong arm: Mo'ne Davis, 13, becomes a national baseball star with her blazing fastball
►Fatal police shooting of unarmed teen focuses national attention on Ferguson, Missouri
►NBA turning point: San Antonio Spurs hire Becky Hammon as assistant coach
►Stay out of tanning booths and limit outdoor sun exposure, the government warns
►Federal agency warns about health risk of Alert Energy and other pure caffeine products
►Israeli response to missiles from Gaza spurs debate over media fairness and balance