---
Additional Resources for Your Classroom


Find over 300 resources that include teacher guides, student supplements, teacher training modules and so much more.

Common Core State Standard
SL.CCS.1/2/3/4 Grades 6-12: An essay of a current news event is provided for discussion to encourage participation, but also inspire the use of evidence to support logical claims using the main ideas of the article. Students must analyze background information provided about a current event within the news, draw out the main ideas and key details, and review different opinions on the issue. Then, students should present their own claims using facts and analysis for support.
FOR THE WEEK OF JUNE 28, 2010
Is cheerleading a sport? A court in Connecticut hears arguments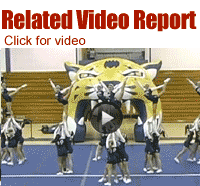 Look for an article, photo, event listing or ad involving a sport you enjoy watching or playing.

Find other legal system news of interest.

Back to the Sports section now: See if you can find coverage of another athletic activity that isn't typically a varsity sport.
A Connecticut judge is considering a question that has moved from gyms and stadiums to a federal court: Is cheerleading a sport? That's not a frivolous matter -- not with big money and college athletic department budgets involved. At issue is whether schools can count cheerleading as a women's varsity team to meet federal gender-equity rules.
Five volleyball players and their coach at Quinnipiac University in Hamden, Conn., sued last year after the school dropped women's volleyball in favor of a competitive cheer squad to save more than $32,000 a year.
Judge Stefan Underhill, who began hearing arguments last week, had agreed to make the lawsuit a class action for all current and future female athletes at Quinnipiac. The wide-interest case focuses fresh attention on a 1972 federal law, called Title IX (the Roman numeral nine), that requires equal athletic opportunities for men and women. "This will be the first time any court has been asked to rule whether competitive cheer is a sport for Title IX purposes," says attorney Jon Orleans, representing the volleyball players.
Competitive cheer advocates say teams are made up of gymnasts and other true athletes, not pom-pon twirlers. Two commercial associations run championship events, and Quinnipiac is part of a new National Competitive Stunts and Tumbling Association formed by eight colleges. In a Wisconsin case not involving Tiitle IX, state Supreme Court justices last year declared cheerleading is a contact sport whose athletes assume certain risks of injury. But the National Collegiate Athletic Association (NCAA) doesn't consider cheerleading a sport.

Title IX says: A sport must have coaches, practices, competitions during a defined season and a governing organization. Competition must be its primary goal.

Cheerleader says: "I've played basketball, soccer, I've run track. It takes just as much physical skill and ability to be a cheerleader." -- Addie Michel, Indiana Tech University

Educator says: "No one wants to denigrate cheerleading, but should it be considered sport at the expense of legitimate women's competitive team sports? How would people react if the school cut a men's sport like baseball or lacrosse and used those funds for a male cheerleading squad?" -- Mary Jo Kane, University of Minnesota director of the Center for Girls and Women in Sports
Front Page Talking Points
is written by Felix Grabowski and Alan Stamm for NIEonline.com, Copyright 2017
We welcome comments or suggestions for future topics:
Click here to Comment
Front Page Talking Points Archive
►President's budget starts debate over proposed military boost and deep cuts elsewhere
►March Madness: Being a college basketball fan can be contagious this time of year
►'Hidden Figures,' a hit film about NASA pioneers, is entertainment that educates and inspires
►The president's team: Six cabinet seats remain empty more than a month after Trump took office
►A big U.S. employment challenge comes from automation, not just foreign competition
►High school students value First Amendment safeguards on speech and media, survey shows
►Supreme Court nominee Neil Gorsuch awaits Senate review and confirmation vote
►Trump temporarily bans all refugees, plus citizens from 7 nations with Muslim majorities
►Climate data from 2016 shows need to reduce fossil fuel emissions, experts say
►Presidential swearing-in: Ceremonies, parade and dancing on a historic Friday in Washington, D.C.