---
Additional Resources for Your Classroom


Find over 300 resources that include teacher guides, student supplements, teacher training modules and so much more.

Common Core State Standard
SL.CCS.1/2/3/4 Grades 6-12: An essay of a current news event is provided for discussion to encourage participation, but also inspire the use of evidence to support logical claims using the main ideas of the article. Students must analyze background information provided about a current event within the news, draw out the main ideas and key details, and review different opinions on the issue. Then, students should present their own claims using facts and analysis for support.
FOR THE WEEK OF JAN. 09, 2012
Tech newcomers of 2012 are introduced this week at Consumer Electronics Show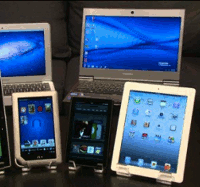 Find electronics show coverage mentioning a product or type of item you'd like to have.

See if news reports or blogs about new gadgets include negative comments about devices not expected to be popular.

Now look at other areas of the paper for any non-electronic device in a photo, article or ad – something without a battery or plug.
Tech geeks of all ages are riveted by news this week from the annual Consumer Electronics Show in Las Vegas, where more than 2,700 exhibitors are showing the latest laptops, tablets, phones, music players, home audio and video gear, cameras, computer accessories, TVs with 3-D screens or Internet connections and lots more.
It's a Disneyland-like spectacle of gee-whiz products, spread out for journalists, bloggers, store buyers and users eager to be among the first seeing what's new from giant companies and tiny newcomers. About 150,000 people jammed the four-day event last year.
Super-slim, lightweight laptops are expected to be among hot items at the show, running from Tuesday through Friday. Called "ultrabooks," these new models from Lenovo, HP, Dell and many other firms have attractive designs, fast boot-up times, decent power and long battery lives. They're inspired by Apple's popular Macbook Air, introduced in late 2010.
Another Apple innovation, the Siri voice-recognition software in new iPhones, is adapted for voice-controlled TV navigation – which a different firm will demonstrate.
Also creating a buzz is an alternative to ear buds or headphones that lets users avoid possible hearing damage. Instead of fitting in the ear or cupping around it, AfterShockz Bone Conduction Headphones have a soft pad that sits just below the temple (each side of forehead). Cheekbones pick up the sound and transmit it to your inner ears. This gadget has a safety advantage of letting users hear nearby voices and traffic sounds. That's why the military relies on the same headset technology, which lets soldiers hear radio communications while also hearing what's going on around them on a battlefield.

Tech blogger says: "Some of the coolest gadgets never come to market at all, and some that do seem to show up a year later." -- James Kendrick at zdnet.com

Developer says: "Voice control can dramatically transform the way viewers control and engage with their televisions, and can lead to a new generation of television services that is limited only by our imaginations." -- Jeff Miller, president and CEO of ActiveVideo Networks

Industry observer says: "While the ultrabooks are thin, light and offer instant-on convenience, the tablet will still have a place in the computer bag for reading, reviewing documents, and informal discussions or presentations." -- David Johnson, tech analyst at Forrester Research
Front Page Talking Points
is written by Alan Stamm for NIEonline.com, Copyright 2017
We welcome comments or suggestions for future topics:
Click here to Comment
Front Page Talking Points Archive
►Presidential swearing-in: Ceremonies, parade and dancing on a historic Friday in Washington, D.C.
►Fake news, Part 2: How to be a smart reader who isn't tricked by viral nonsense
►Fake news, Part 1: Made-up stories shared widely online can have a real impact, 2016 events show
►Energy and environment: Tribe wins North Dakota oil pipeline fight -- for now
►Donald Trump's media criticisms and provocative tweets push journalists to explore different coverage
►Fidel Castro, longtime leader of Cuba's Communist revolution, dies at age 90 in Havana
►Bargain-hunters will bolt from Thanksgiving tables to catch holiday gift sales
►These issues and plans are atop Donald Trump's agenda as our next president prepares to lead
►Election drama beyond the presidential race: Which party will have a U.S. Senate majority next term?
►World Series has extra drama as the Cubs and Indians each struggle to end many decades without a championship