---
Learn to Teach With the E-Edition. It's Easy!
The Palm Beach Post e-edition is educational, efficient, and easy to use. It makes learning fun for students by reaching them where they live - in an increasingly digital world. And, it can be easy and fun for you, too. Check out our online teacher tutorial. It gives you step-by-step directions for using the e-edition tools. We'll even give you suggestions for learning activities that meet state standards. Easy! Educational! Efficient! A triple winner!
---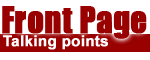 FOR THE WEEK OF SEP. 17, 2012
Constitution Day honors timeless principles that have guided America for 225 years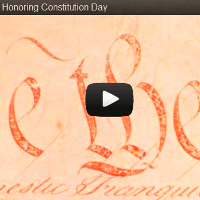 Find an article about any of the three branches of federal government.

Look for coverage of a legal or public policy issue involving a constitutional question.

What does the Constitution have to do with the presidential campaign?
This week opens with a national observance of Constitution Day, designated by Congress and the president in 2004 as an occasion to commemorate the signing of the U.S. Constitution on Sept. 17, 1787 and learn more about our founding document. All public schools present programs about constitutional protections and the 39 men who signed it 225 years ago in Philadelphia.
Our Constitution, the world's longest surviving written government charter, remains a model for democracy advocates in the Middle East and other areas. Its first three words –– "We the People" –– affirm that the government exists to serve its citizens. Another source of strength is the balancing of powers among three independent branches of government: executive (president), legislative (Congress) and judicial (courts).
The Constitution and its 27 amendments also assure liberty, equality, majority rule, minority rights and state powers. Federal judges and ultimately the nine Supreme Court justices interpret the meaning of the Constitution and its amendments, which lets 18th century language apply in the Internet age. "The United States Constitution remains a vital and living document, strengthened by amendments, serving as both guide and protector of U.S. citizens and their elected officials," says a Constitution Day message from the U.S. Senate Historical Office. "It has survived civil war, economic depressions, assassinations, and even terrorist attacks to remain a source of wisdom and inspiration." The original parchment pages are at the National Archives in Washington, D.C.

Sponsor said: "Our ideals of freedom, set forth and realized in our Constitution, are our greatest export to the world." – Sen. Robert Byrd, D-West Virginia, who introduced the Constitutional Day bill six years before he died

Ex-teacher says: "Students deserve a more critical and nuanced exploration of the Constitution -- one that is alert to the race and class issues at the heart of our governing document." – Bill Bigelow, former high school social studies teacher in Portalnd, Ore., blogging Sept. 14 at Huffington Post

When you can vote: The 26th Amendment sets 18 as the national voting age. It was adopted in 1971 in response to student activism against the Vietnam War, when young men were drafted into the military
Front Page Talking Points
is written by Alan Stamm for NIEonline.com, Copyright 2013
We welcome comments or suggestions for future topics:
Click here to Comment
Front Page Talking Points Archive
►Northeast braces for noisy invasion: Flying cicada bugs return after hiding for 17 years
►U.S. military prison at Guantanamo, Cuba, remains a tricky problem for President Obama
►Doctors warn about serious health risks from 'The Cinnamon Challenge' video craze
►Earth Day on April 22 focuses attention on how we can protect the natural environment
►Thousands of past players take on the National Football League over brain injuries
►North Korean missile threats create concern and U.S. show of military force
►South Africa reflects on the huge legacy of Nelson Mandela, hospitalized at 94
►They come from space: NASA seeks money to spot and deflect risks from large asteroids
►This 'March Madness' basketball tournament season is special – the 75th in history
►Coming soon to your screen: Facebook changes its news feed to give users more content choices