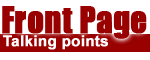 FOR THE WEEK OF MAY 20, 2013
Federal safety board urges tougher drinking-and-driving cutoff limit to match other nations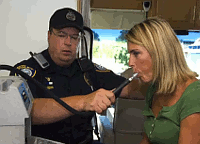 Look for coverage of another public policy that could affect you now or in the future – such as a proposal involving education, employment or online privacy. List or discuss reasons why you favor or oppose what's being considered.

Now see if there's an article about a different safety issue – maybe one involving food, sports injuries or summer activities outdoors.

Can you spot a photo or ad related to safety at home, on a job or anywhere else?
A federal agency suggests an obvious way to reduce crashes caused by alcohol use: Drop the legal blood alcohol limit used by police to test drivers who seem tipsy. For the past 13 years, adults with at least 0.08 percent alcohol in their bloodstream can be charged with driving while intoxicated – a serious offense that means jail time for repeat violators. Now the National Transportation Safety Board recommends lowering the cutoff to 0.05 percent. (Young drivers already are held to stricter standards, which vary by states.)
"It's time to take bold action," says the safety board's chairwoman, Deborah Hersman. "The United States is woefully behind the rest of the world. Twenty-five of the 27 European Union countries have a blood limit of 0.05 or lower. Worldwide, more than 100 countries on six continents have a blood alcohol limit of 0.05 or lower, and they are reducing crashes and saving lives." When Australia took the same step, it reported a sharp drop in traffic fatalities. Jan Withers, national president of Mothers Against Drunk Driving, naturally supports the move. Nationally, "nearly 10,000 lives are lost and 315,000 are injured each year because someone made the wrong choice to drink and drive," she notes.
Still, there's concern about the proposal. The American Beverage Institute, representing liquor makers and beer brewers, calls the change "ludicrous" and says it "would criminalize perfectly responsible behavior." In a statement, that industry group adds: "Further restricting the moderate consumption of alcohol by responsible adults prior to driving does nothing to stop hard-core drunken drivers from getting behind the wheel." The safety board is an advisory body with no authority. It issues recommendations to states and U.S. agencies.

Backer says: "Research shows that drivers with a 0.05 percent or higher blood alcohol content are at significantly greater risk of being involved in a fatal crash. . . . We also know that at 0.05 most drivers experience diminished visual function, increased drowsiness and decreased vigilance." – Deborah Hersman, head of National Transportation safety Board

Critic says: "Individuals have differing tolerances for alcohol. Studies have shown that drivers aren't statistically dangerous until they reach blood alcohol limits of 0.14 or 0.15 percent." -- Gary Biller, president of a drivers' rights group, the National Motorists Association

Police chief says: "I understand it and I am sure there are some sound numbers behind it, but whether or not it will work as a deterrent I am highly suspect of." – Eddie Adamson of Chickasha, Okla.
Front Page Talking Points
is written by Alan Stamm for NIEonline.com, Copyright 2013
We welcome comments or suggestions for future topics:
Click here to Comment
Front Page Talking Points Archive
►Federal safety board urges tougher drinking-and-driving cutoff limit to match other nations
►Northeast braces for noisy invasion: Flying cicada bugs return after hiding for 17 years
►U.S. military prison at Guantanamo, Cuba, remains a tricky problem for President Obama
►Doctors warn about serious health risks from 'The Cinnamon Challenge' video craze
►Earth Day on April 22 focuses attention on how we can protect the natural environment
►Thousands of past players take on the National Football League over brain injuries
►North Korean missile threats create concern and U.S. show of military force
►South Africa reflects on the huge legacy of Nelson Mandela, hospitalized at 94
►They come from space: NASA seeks money to spot and deflect risks from large asteroids
►This 'March Madness' basketball tournament season is special – the 75th in history