►

Finland is the best country for mothers, report says
Answer FIVE Geography questions each week based on major news events.
►
Archive of Geography quizzes
---

Tap the wealth of information in your newspaper as a teaching tool:
---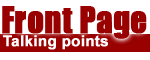 ►Northeast braces for noisy invasion: Flying cicada bugs return after hiding for 17 years

-- Front Page Talking Points Archive
---

Diversity, multiculturalism, worldwide events. You'll find plenty for classroom discussions in this listing of events.
---
A set of weekly educational activities geared toward younger readers