---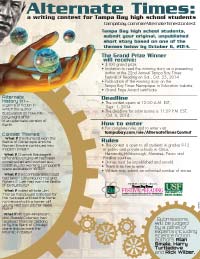 Alternate Times writing contest for high school students
Deadline: Oct 6, 2014
Tampa Bay high school students, submit an original short story for a chance to win $100 and be featured as a presenting author at the 22nd Annual Tampa Bay Times Festival of Reading!
►Click here for more information
►Click here to visit the contest website
►Click here to enter the contest
---
Free workshop for teachers of grades 6-12
Mental Health Issues in the Classroom
Thursday, October 16, 2014
5:30 – 8:30 p.m.
This workshop will help educators recognize the early signs of mental illness and substance abuse in adolescents, understand how best to intervene so that youth are linked to services and learn to use informational text to address difficult topics in the classroom.
►Click here for more information
►Click here to register
---
Thank you to everyone who participated in Tampa Bay's Cutest Pet Photo Contest 2014! This year's contest is over, but look for announcements about next years in the fall of 2014.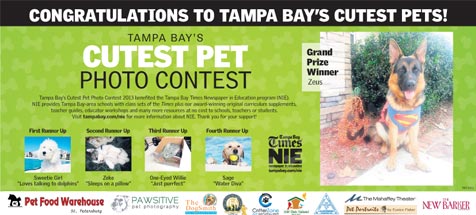 ► View the winners of this year's contest
---
NIE has partnered with Little Passports to bring Tampa Bay students an exciting educational opportunity.
Little Passports is an award-winning learning toy for boys and girls between 5 and 10 years of age geared towards inspiring children to learn about other countries and cultures.
►Click here for details.
---
Pinellas Teachers Only: Free field trips to art museums
Free field trips to art museums are available for all Pinellas County teachers of all grades and contents (courtesy of referendum funds).
►Click here for details