Common Core State Standard
SL.CCS.1/2/3/4 Grades 6-12: An essay of a current news event is provided for discussion to encourage participation, but also inspire the use of evidence to support logical claims using the main ideas of the article. Students must analyze background information provided about a current event within the news, draw out the main ideas and key details, and review different opinions on the issue. Then, students should present their own claims using facts and analysis for support.
FOR THE WEEK OF MAY 25, 2009
Facebook show and tell can sabotage college admission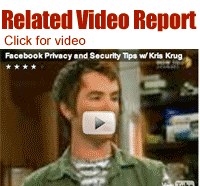 Find coverage of another issue involving privacy, ethics or online activities.

Look for social media links or mentions in news reports. Do any columnists, or the paper itself, have a fan page that's promoted?

The Twitter micro-blogging service also is a popular way to connect with friends and keep up with breaking news directly from some journalists. Does this paper or any reporter share a Twitter address?
An important lesson for high school students has nothing to do with texts, tests or teachers. The lesson is to watch what you brag about and bare on social media or a personal blog. A bodacious MySpace photo or indiscreet Facebook post may be a deal-blocker in the eyes of campus admissions officers, who sometimes look at online profiles.
About a quarter of colleges and universities check prospective students' social network pages before offering admission or scholarships, says a survey released last month. "Most colleges will do whatever it takes to recruit the right type of student to their respective institution," explains Mark D. Weinstein, dean of enrollment at Grace College in Winona Lake, Ind.
Many employers also tap keyboards for background checks on job applicants, who could damage or derail themselves with racy videos, juvenile blog entries or albums full of party animal snaps. At some universities and corporations, applicants are asked for a link to their Facebook or MySpace pages.
Not surprisingly, some students think this sort of screening is snooping that's out of bounds. "It is extremely unethical to judge a person's social life by a networking site and it is total invasion of privacy," Kristen Sharaf of Pierce College in Woodland Hills, Calif., wrote this month in a student publication. Campus and business recruiters, she feels, "should be more concerned with the grades you are upholding and what you have to offer them. Personal and professional lives should be kept apart."

Educator says: "No school wants to give a prestigious scholarship to someone standing on a beer keg and wearing a lampshade." -- Nora Ganim Barnes, University of Massachusetts marketing professor

Student says: "I was in a sorority, so maybe there are some racy pics that people shouldn't see, but for the most part I'll take those down. If everyone can't see it, maybe it shouldn't be out there." -- Maggie Attashian, University of Nevada-Reno

Admissions counselor says: "Don't post anything that you don't want your mother or father or college admission officer to see." -- David Hawkins, director of public policy and research, National Association for College Admission Counseling
Front Page Talking Points
is written by Felix Grabowski and Alan Stamm for NIEonline.com, Copyright 2017
We welcome comments or suggestions for future topics:
Click here to Comment
Front Page Talking Points Archive

President's budget starts debate over proposed military boost and deep cuts elsewhere

March Madness: Being a college basketball fan can be contagious this time of year

'Hidden Figures,' a hit film about NASA pioneers, is entertainment that educates and inspires

The president's team: Six cabinet seats remain empty more than a month after Trump took office

A big U.S. employment challenge comes from automation, not just foreign competition

High school students value First Amendment safeguards on speech and media, survey shows

Supreme Court nominee Neil Gorsuch awaits Senate review and confirmation vote

Trump temporarily bans all refugees, plus citizens from 7 nations with Muslim majorities

Climate data from 2016 shows need to reduce fossil fuel emissions, experts say

Presidential swearing-in: Ceremonies, parade and dancing on a historic Friday in Washington, D.C.

Complete archive