Common Core State Standard
SL.CCS.1/2/3/4 Grades 6-12: An essay of a current news event is provided for discussion to encourage participation, but also inspire the use of evidence to support logical claims using the main ideas of the article. Students must analyze background information provided about a current event within the news, draw out the main ideas and key details, and review different opinions on the issue. Then, students should present their own claims using facts and analysis for support.
FOR THE WEEK OF AUG. 24, 2009
Wireless eReaders bring opportunities and optimism to newspapers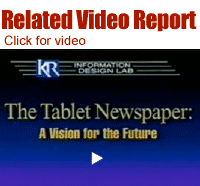 Show or recall how you use printed newspapers in a way that's not as easy -- or even possible -- online. List benefits of an eReader digital edition with images of all pages, similar to the original format.

On the flip side, think of newspaper features that won't work in a digital version unless printouts eventually can be made from eReaders. (Hint: What requires a pencil or scissors?)

Look at news pages and ads for other electronic tools or digital content for gaming, communication, education, entertainment or business. Pick one you'd like and tell why.
Digital advances continue to affect the newspaper business in dramatic ways -- and they're not all bad. While the Internet is a major reason why printed dailies are shrinking in many cities, a newer technology could help rather than harm newspaper publishers. In fact, another ink-on-paper business already is energized by the same breakthrough -- wireless electronic readers (eReaders) with large screens.
These lightweight tablets about the size of a magazine let readers download books with full-size print and page-like appearance. Large-format newspaper versions, as shown in the video, spark intense interest in an industry scrambling to reinvent itself.
Every paper has a website, of course, but not all offer digital editions with the same layout and ads as the printed original. The eReaders open a fresh way to attract digital subscribers with read-anywhere newspapers that are delivered via wireless phone carriers, have familiar layouts and typefaces, and can be "flipped through" without smudged fingers. Glare-free eReaders also beat trying to squint at news on a smart phone or iPod.
Publishers save on delivery and paper costs, as with web editions, and advertisers gain greater visibility for ads that are bigger than online banners or pop-ups. The New York Times is testing an e-reader and the Hearst Corp. plans to introduce a version this fall.
They're not an instant miracle, obviously. First-generation models lack color capability. They won't have live links to online information and users can't copy, print or save articles. Digital editions likely won't be updated during the day, unlike news websites. Different brands will limit universal access to wireless editions for competitive reasons. And critics note that current users of eReaders from Amazon or Barnes and Noble buy just access to a book, not an actual book that can be shared, sold or donated for others to enjoy.

Publisher says: "Will the e-edition replace the printed paper? Probably not, and definitely not in the near term. But it's one more option, offering convenience and quick delivery. And without the need to pack it up and recycle." -- Donna Donovan, publisher of Utica (N.Y.) Observer-Dispatch, which started an online digital edition in July

Business analyst says: "Wireless can do for newspapers what it is in the process of doing for books." -- Tom Wheeler, managing director at Core Capital Partners in Washington, D.C.

Professor says: "We can share only what we own. And as more and more content gets digitized, commercialized and monopolized, our cultural integrity is threatened. The free and balanced flow of information that gives shape to democratic society is jeopardized." -- Emily Walshe, Long Island University in New York
Front Page Talking Points
is written by Felix Grabowski and Alan Stamm for NIEonline.com, Copyright 2017
We welcome comments or suggestions for future topics:
Click here to Comment
Front Page Talking Points Archive

Presidential swearing-in: Ceremonies, parade and dancing on a historic Friday in Washington, D.C.

Fake news, Part 2: How to be a smart reader who isn't tricked by viral nonsense

Fake news, Part 1: Made-up stories shared widely online can have a real impact, 2016 events show

Energy and environment: Tribe wins North Dakota oil pipeline fight -- for now

Donald Trump's media criticisms and provocative tweets push journalists to explore different coverage

Fidel Castro, longtime leader of Cuba's Communist revolution, dies at age 90 in Havana

Bargain-hunters will bolt from Thanksgiving tables to catch holiday gift sales

These issues and plans are atop Donald Trump's agenda as our next president prepares to lead

Election drama beyond the presidential race: Which party will have a U.S. Senate majority next term?

World Series has extra drama as the Cubs and Indians each struggle to end many decades without a championship

Complete archive