Common Core State Standard
SL.CCS.1/2/3/4 Grades 6-12: An essay of a current news event is provided for discussion to encourage participation, but also inspire the use of evidence to support logical claims using the main ideas of the article. Students must analyze background information provided about a current event within the news, draw out the main ideas and key details, and review different opinions on the issue. Then, students should present their own claims using facts and analysis for support.
FOR THE WEEK OF SEP. 07, 2009
President's video lesson for students also teaches about politics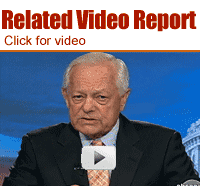 In news articles, watch for local reactions to the school video, as well as to a prime-time presidential address Wednesday evening about health care reform.

In an editorial, opinion column, letter or reader forum, find a comment that reflects your viewpoint about Tuesday's education address.

Other debates about public policy, foreign affairs or even sports stimulate lively back-and-forth. Spot a hot topic that also generates strong feelings.
President Obama has back-to-school advice for you. In video remarks to public schoolchildren around the country, he'll talk for 20 minutes Tuesday (Sept. 8) at noon Eastern time about working hard, finishing high school and aiming high. His address from Wakefield High in Arlington, Va., will be available live online at whitehouse.gov and on C-SPAN for viewing in classrooms or auditoriums. Several presidential Cabinet members will watch with pupils around the country and discuss the message with them.
But some districts won't show the event or will let pupils be excused from watching because of parental fears that it's political and inappropriate. "I am concerned about the motives behind this speech," says Jessica Ryan of Baltimore, who feels no president belongs in classrooms. At a suburban Philadelphia district, the social studies curriculum supervisor says: "We are hearing from parents on both sides of the issue."
In response to the controversy, the White House offered a full text to educators Monday and dropped a suggestion that elementary students "write letters to themselves about what they can do to help the president." The speech is intended to encourage kids to work hard and commit to school," a spokesman said, adding that Obama won't bring up health care reform or other policy issues.
Educators and parents in favor or showing the remarks see a chance to inspire -- the type of "teachable moment" the president says is his only goal. "It's difficult for me to understand how listening to the president, the commander in chief, the chief citizen of this country, is damaging to the youth of today, says Phyllis Epps, whose two children attend Houston Public Schools.

White House says: "The president will speak about the value of education and the importance of staying in school as part of his effort to dramatically cut the dropout rate." -- Tommy Vietor, communications aide

Parent says: "The thing that concerned me most about it was it seemed like a direct channel from the president of the United States into the classroom, to my child. I don't want our schools turned over to some socialist movement." -- Brett Curtis, an engineer in Pearland, Texas, who planned to keep three children home

Republican official says: "I do not support using our children as tools to spread liberal propaganda. The address scheduled for September 8 . . . obligates the youngest children in our public school system to agree with our president's initiatives or be ostracized by their teachers and classmates." -- Jim Greer, chairman, Republican Party of Florida
Front Page Talking Points
is written by Alan Stamm for NIEonline.com, Copyright 2017
We welcome comments or suggestions for future topics:
Click here to Comment
Front Page Talking Points Archive

President's budget starts debate over proposed military boost and deep cuts elsewhere

March Madness: Being a college basketball fan can be contagious this time of year

'Hidden Figures,' a hit film about NASA pioneers, is entertainment that educates and inspires

The president's team: Six cabinet seats remain empty more than a month after Trump took office

A big U.S. employment challenge comes from automation, not just foreign competition

High school students value First Amendment safeguards on speech and media, survey shows

Supreme Court nominee Neil Gorsuch awaits Senate review and confirmation vote

Trump temporarily bans all refugees, plus citizens from 7 nations with Muslim majorities

Climate data from 2016 shows need to reduce fossil fuel emissions, experts say

Presidential swearing-in: Ceremonies, parade and dancing on a historic Friday in Washington, D.C.

Complete archive