Common Core State Standard
SL.CCS.1/2/3/4 Grades 6-12: An essay of a current news event is provided for discussion to encourage participation, but also inspire the use of evidence to support logical claims using the main ideas of the article. Students must analyze background information provided about a current event within the news, draw out the main ideas and key details, and review different opinions on the issue. Then, students should present their own claims using facts and analysis for support.
FOR THE WEEK OF FEB. 15, 2010
'Let's Move' to shape up and combat childhood obesity, Michelle Obama urges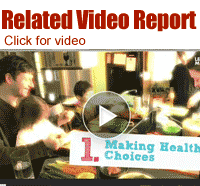 Look for fitness information, such as news or listings about physical recreation, nutrition or health.

Try to find a food feature or recipe. Do you think Mrs. Obama would consider it part of a healthful diet?

Some ads promote activities or products that may contribute to an unhealthy lifestyle unless they're limited. Do you see any?
Our country's first lady wants to improve diet and exercise routines to combat childhood obesity, a medical term that describes being dangerously overweight. "Our children are on track to be less healthy than we are," Michelle Obama said last week as she pushed a crusade involving doctors, food and beverage makers, government and even the entertainment industry.
Thirty-two percent of U.S. children -- about one of every three -- are considered obese or overweight. That's the highest percentage of any developed nation.
After discussing the issue since last year, the president's wife now is working to change how millions of youngsters eat, exercise, look and feel. Her "Let's Move" drive has four main parts: (1) Helping parents learn more about nutrition and exercise, (2) improving the quality of food in schools, (3) making healthy foods more affordable and accessible for families, and (4) focusing more on physical education.
Steps have begun. Major suppliers of foods to school cafeterias pledge to cut sugar, salt and fat and increase whole grains and produce clear. The front of beverage cans, bottles and vending machines will have clear calories labels by 2012. Film studios, TV networks and other media companies will show public service announcements by athletes and others urging kids to trade video games for physical activity at least some of the time.
As she describes in the video below, Mrs. Obama takes steps to help daughters Malia and Sasha stay fit: No weekday TV. Smaller meal portions. Low-fat milk. Water bottles in lunch boxes. Grapes on the breakfast table. Apple slices at lunch. Colorful vegetables on the dinner table. "We have everything we need right now to help our kids lead healthy lives," she advises parents. "It was really very minor stuff, but these small changes resulted in some really significant improvements."

Website has tips: LetsMove.gov

Doctor says: "You don't just go from epidemic obesity to epidemic leanness." -- Dr. David Katz, obesity expert at Yale University

Blogger says: "Obesity, like smoking, is a public health issue and should be treated that way. The first lady must take a hard look and a tough stance against everything that's making and keeping us fat." -- Linda Villarosa, journalist and author blogging at theroot.com
Front Page Talking Points
is written by Felix Grabowski and Alan Stamm for NIEonline.com, Copyright 2017
We welcome comments or suggestions for future topics:
Click here to Comment
Front Page Talking Points Archive

President's budget starts debate over proposed military boost and deep cuts elsewhere

March Madness: Being a college basketball fan can be contagious this time of year

'Hidden Figures,' a hit film about NASA pioneers, is entertainment that educates and inspires

The president's team: Six cabinet seats remain empty more than a month after Trump took office

A big U.S. employment challenge comes from automation, not just foreign competition

High school students value First Amendment safeguards on speech and media, survey shows

Supreme Court nominee Neil Gorsuch awaits Senate review and confirmation vote

Trump temporarily bans all refugees, plus citizens from 7 nations with Muslim majorities

Climate data from 2016 shows need to reduce fossil fuel emissions, experts say

Presidential swearing-in: Ceremonies, parade and dancing on a historic Friday in Washington, D.C.

Complete archive