Common Core State Standard
SL.CCS.1/2/3/4 Grades 6-12: An essay of a current news event is provided for discussion to encourage participation, but also inspire the use of evidence to support logical claims using the main ideas of the article. Students must analyze background information provided about a current event within the news, draw out the main ideas and key details, and review different opinions on the issue. Then, students should present their own claims using facts and analysis for support.
FOR THE WEEK OF MAR. 15, 2010
One sport, 65 teams, no medals: NCAA Tournament is the Olympics of college basketball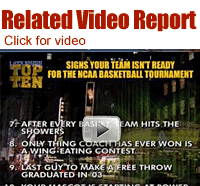 Like the Olympics, the NCAA Tournament reaches beyond sports. Find March Madness-related coverage in the main news section or business, entertainment or lifestyle pages.

For new fans, it can be tough to understand bracket pairings and how teams reach the Final Four. See if reports are clear or clouded by jargon. Point out any terms you're unsure about.

Look for a quote from anyone -- player, coach, fan, journalist -- with a view of March Madness that seems sensible and balanced about what's important.
Though some fans have barely shaken off Winter Olympics fever, a new two-week sports frenzy begins Tuesday -- one that comes every year, not every four. Teams were selected Sunday, based on 2009-10 records and some wild-card spots, for a National Collegiate Athletic Association basketball championship series that will winnow 65 teams down to a Sweet Sixteen, then an Elite Eight and ultimately a Final Four for April 3-5 games in Indianapolis.
It's called March Madness, which also covers last week's conference tournaments such as the Big East, Big West, Pacific 10 and Big 10. For college students, alumni and basketball fans worldwide, this is It. Many fill in "bracket" grids, trying to pick each round's winners -- often with a betting pool involved. Live streaming of games online and to mobile devices makes it easier to sneak peeks in school, at work or nearly anywhere. Studies suggest that business productivity slumps at least a bit during the next two weeks.
There's extra buzz this year because a tournament expansion to 68 or even 96 teams is being considered to let the NCAA earn more TV revenue and bring in teams that nearly qualify now. Coaches generally support expansion, but fans are strongly opposed. In a USA Today poll, 80 percent chose "the field of 65 is just right." That size has been in place since 1985, and New York Times sportswriter George Vecsey also feels it's ideal. "Don't get too greedy," he told the NCAA in a column this month.

Broadcaster says: "It's always wide open, but this year -- more so than the past couple years -- it's even more wide open. You look at the top seeds . . . All these teams are so vulnerable." -- Jay Williams, ESPN analyst and past Duke University player

Blogger says: "Don't try to fix something that isn't broken. There's a reason complaints about the format of the Tournament are so rare. It works." -- Kevin Pender, Houston Chronicle sportswriter and blogger

Casual fan says: "I don't really start getting into it until the Final Four. Once it's down to the end, I'll be watching more closely." -- Larry Lynch, construction worker in Hull, Mass.
Front Page Talking Points
is written by Felix Grabowski and Alan Stamm for NIEonline.com, Copyright 2016
We welcome comments or suggestions for future topics:
Click here to Comment
Front Page Talking Points Archive

Harriet Tubman will be the new face of $20 bills as paper money gets more diverse

Bleached-out coral shows alarming impact of warmer oceans

Futuristic vision: Virtual reality headsets take videos, training and gaming to a new level

End of an era: Sea World yields to critics of killer whale shows, which will change

Supreme Court seat showdown: Republican senators vow to block President Obama's nominee

President Obama visits Havana this week as the next step in closer U.S.-Cuba relations

Legal standoff between Apple and FBI involves iPhone privacy and mass shooting investigation

Presidential campaign: Republican and Democratic nomination races are lively

Uber driver charged in Michigan shootings adds to concerns about the ride service

Political showdown: Will the Republican-led Senate let the president fill Supreme Court opening?

Complete archive