Common Core State Standard
SL.CCS.1/2/3/4 Grades 6-12: An essay of a current news event is provided for discussion to encourage participation, but also inspire the use of evidence to support logical claims using the main ideas of the article. Students must analyze background information provided about a current event within the news, draw out the main ideas and key details, and review different opinions on the issue. Then, students should present their own claims using facts and analysis for support.
FOR THE WEEK OF SEP. 20, 2010
Concussions among young basketball players show dramatic increase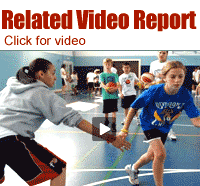 Look for medical or fitness coverage with guidance for safe, healthy living. Summarize at least one point in a sentence or phrase -- a tip as easy to remember as "When in doubt, sit them out."

Find a non-game sports article of interest -- anything about a player, coach, stadium, mascot, athletic policy or other feature.

List individual recreation activities that also could cause injuries, especially if safety gear isn't used.
Traumatic brain injuries involving young athletes playing basketball rose 70 percent over a recent 11-year period, a distressing new study shows. More than 375,000 boys and girls are treated in hospital emergency rooms each year for basketball-related injuries, says last week's report in the medical journal Pediatrics. Researchers expressed alarm at the rise in traumatic brain injuries, also called concussions, from 7,030 in 1997 to 11,948 in 2007.
The upturn may reflect an "ever-increasing level of competitiveness and intensity of training and play, starting at younger ages," suggest medical researchers at the Center for Injury Research and Policy in Columbus, Ohio. They recommend "age-appropriate basketballs" and say rough play should be discouraged." Some states require or are considering mandatory education for coaches about concussion risks and immediate removal from play when a head injury occurs. Concussions can lead to permanent brain damage if a child continues to play without time to heal.
In Idaho, which adopted strict standards for high school players last year, coaches are instructed to keep this slogan in mind: "When in doubt, sit them out." The statewide scholastic athletic association's president explains: "Don't even take a chance with these types of injuries. That is what we have been preaching to our schools."
This first extensive research into the extent of brain injuries among basketball players comes as high schools, colleges and the NFL work to minimize risks of concussions and other brain trauma for football players. While all sports have some chance of injury, basketball is the country's most popular youth sport -- played by 550,000 boys and 450,000 girls each academic year. In terms of individual risk, rather than total numbers, concussion rates among 12- to 17-year-olds are highest for ice hockey, followed by football, soccer, basketball and baseball.

ER scorecard: Athletics account for about 20 percent of visits to the emergency room for injuries among patients of all ages. The top five injury-producing sports are basketball, cycling, football, baseball and softball in that order. -- American Academy of Orthopedic Surgeons

Doctor says: "We probably need to do a better job of educating coaches, athletes and parents. Preventing traumatic brain injuries is going to be pretty challenging." -- Dr. Lara McKenzie, Center for Injury Research and Policy in Columbus, Ohio

Parent says: "Kids play rougher and tougher than they ever have." -- Christine White of Pataskala, Ohio, whose 12-year-old daughter suffered a concussion during basketball practice
Front Page Talking Points
is written by Alan Stamm for NIEonline.com, Copyright 2016
We welcome comments or suggestions for future topics:
Click here to Comment
Front Page Talking Points Archive

Harriet Tubman will be the new face of $20 bills as paper money gets more diverse

Bleached-out coral shows alarming impact of warmer oceans

Futuristic vision: Virtual reality headsets take videos, training and gaming to a new level

End of an era: Sea World yields to critics of killer whale shows, which will change

Supreme Court seat showdown: Republican senators vow to block President Obama's nominee

President Obama visits Havana this week as the next step in closer U.S.-Cuba relations

Legal standoff between Apple and FBI involves iPhone privacy and mass shooting investigation

Presidential campaign: Republican and Democratic nomination races are lively

Uber driver charged in Michigan shootings adds to concerns about the ride service

Political showdown: Will the Republican-led Senate let the president fill Supreme Court opening?

Complete archive