Common Core State Standard
SL.CCS.1/2/3/4 Grades 6-12: An essay of a current news event is provided for discussion to encourage participation, but also inspire the use of evidence to support logical claims using the main ideas of the article. Students must analyze background information provided about a current event within the news, draw out the main ideas and key details, and review different opinions on the issue. Then, students should present their own claims using facts and analysis for support.
FOR THE WEEK OF JAN. 10, 2011
Word change in Mark Twain books revives debate about literature, language, race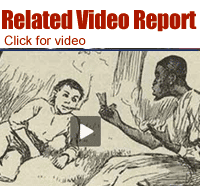 Find a news or feature presentation illustrating how race relations in 2011 are far different than when Twain wrote.

List or discuss differences between language in newspapers and literature. Why should or shouldn't this paper print the n-word?

Predicting what offends can be tricky. Does any ad, photo, editorial cartoon or opinion column upset you or seem as though it could appear crude to others?
"The difference between the almost right word and the right word is really a large matter," according to 19th century author Mark Twain. "It is the difference between the lightning bug and the lightning." Now his best-known books, The Adventures of Huckleberry Finn and The Adventures of Tom Sawyer, are the focus of heated debate over whether a racial slur is the right word for students and others to see.
A small Alabama publisher's new combined edition of the popular novels, coming next month, substitutes "slave" for what's now politely called "the n-word." That nasty word, used openly by some whites in Twain's era, appears 219 times in Huck Finn (issued in 1885) and four times in Tom Sawyer (1876).
NewSouth Books, accepting advice from a 69-year-old English professor, says the change is intended to avoid offending readers. The 7,500-copy edition also replaces "injun" with "Indian." In its attempt to avoid offending readers, the publisher offended literature scholars, online commentators and Twain admirers of all ages. "Who knows what other words [Huck Finn] contains that are OK now that someday might be offensive?" Comedy Central TV host Stephen Colbert asked sarcastically.
The acclaimed author would recognize the current hullabaloo. The year Huck Finn appeared, the Concord Public Library in Massachusetts banned it for "coarse language." A reviewer called it "the veriest trash ... more suited to the slums than to intelligent, respectable people." In 1905, the Brooklyn Public Library in New York banished the book from its young readers' section. School boards and superintendents in some areas still fussed over it from time to time, and in 1998 parents sued a high school in Tempe, Ariz., to keep the book off a required reading list. They lost at a federal appeals court.
The last words here go to Twain, who once fired back by saying: "Censorship is telling a man he can't have a steak just because a baby can't chew it."

Change backer says: "It's such a shame that one word should be a barrier between a marvelous reading experience and a lot of readers." -- Alan Gribben, English professor at Auburn University in Alabama, who advised publisher to change text

Writer says: "The notion that contemporary readers of Huckleberry Finn and Tom Sawyer are surprised or offended by the word seems questionable. . . . What's next? Substituting orange for red in a painter's work because some observers find red too aggressive?" -- Jill Nelson, African-American author

English professor says: "We need to give teachers the tools they need to teach Twain's book in the context of the history of racism in this country." -- Shelley Fisher Fishkin, Stanford University in California, editor of book about Twain
Front Page Talking Points
is written by Felix Grabowski and Alan Stamm for NIEonline.com, Copyright 2017
We welcome comments or suggestions for future topics:
Click here to Comment
Front Page Talking Points Archive

Presidential swearing-in: Ceremonies, parade and dancing on a historic Friday in Washington, D.C.

Fake news, Part 2: How to be a smart reader who isn't tricked by viral nonsense

Fake news, Part 1: Made-up stories shared widely online can have a real impact, 2016 events show

Energy and environment: Tribe wins North Dakota oil pipeline fight -- for now

Donald Trump's media criticisms and provocative tweets push journalists to explore different coverage

Fidel Castro, longtime leader of Cuba's Communist revolution, dies at age 90 in Havana

Bargain-hunters will bolt from Thanksgiving tables to catch holiday gift sales

These issues and plans are atop Donald Trump's agenda as our next president prepares to lead

Election drama beyond the presidential race: Which party will have a U.S. Senate majority next term?

World Series has extra drama as the Cubs and Indians each struggle to end many decades without a championship

Complete archive