Common Core State Standard
SL.CCS.1/2/3/4 Grades 6-12: An essay of a current news event is provided for discussion to encourage participation, but also inspire the use of evidence to support logical claims using the main ideas of the article. Students must analyze background information provided about a current event within the news, draw out the main ideas and key details, and review different opinions on the issue. Then, students should present their own claims using facts and analysis for support.
FOR THE WEEK OF AUG. 29, 2011
Hurricane Irene, even while weakening, prompts storm of intense coverage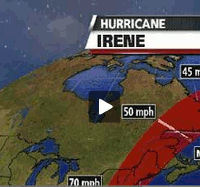 Look for follow-up news about hurricane costs, media coverage, rescheduled events or other impacts.

Weather coverage shows how science is part of everyday life. Search for another example.

Find local weather information for this week or the upcoming holiday weekend.
Millions of East Coast residents endured tense days last week of bracing for Hurricane Irene, an Atlantic storm that came ashore in North Carolina and headed toward major cities that prepared for the worst. The worst never came, for the most part, though there was widespread flooding, downed trees and power outages and road closures. The hurricane weakened steadily until it was reclassified Sunday as a tropical storm.
About 20 people died in storm-related accidents from Florida to Connecticut, and up to four million power customers along Irene's path still had no electricity on Sunday afternoon. Major airports around New York City are not expected to reopen until Monday afternoon or Tuesday. Commuter rail service and subways there also are interrupted.
Week-long warnings of possibly catastrophic wind, rain and waves flowed from government officials, emergency coordinators and the news media. President Obama cut short a family beach vacation in Massachusetts by one day to return Friday to Washington to oversee government preparations.
Inevitably, the dire forecasts and media drumbeat set the stage for second-guessing after the hurricane -- downgraded to Category 1 by Saturday -- blew through without major calamities. New York Mayor Bloomberg drew criticism for shutting the subway system, a decision he defended Sunday. We were unwilling to risk the life of a single New Yorker," he said. "We would make the same decisions again without hesitation. In a commentary distributed Sunday by the Reuters news service, headlined "Hurricane Hysteria: Media Fueled Needless Panic Over Irene," writer Lucas Shaw says: "There is nothing wrong with precaution, but the reaction was one of mania and there is no doubt the media's nonstop coverage had a large hand in this. . . . How many stories can one tell about a single, ever-weakening hurricane? Too many, it turns out."

President says: "Many Americans are still at serious risk of power outages and flooding, which could get worse in the coming days as rivers swell past their banks." -- White House briefing with heads of Homeland Security and Federal Emergency Management Agency

Federal coordinator says: "People have lost lives, I don't think you can say we dodged a bullet." -- Craig Fugate, director of the Federal Emergency Management

Media critic says: "The real vortex of Hurricane Irene: the feedback loop between mainstream and social media. Hype fueling hype." -- Nick Denton, founder of Gawker.com, via Twitter
Front Page Talking Points
is written by Felix Grabowski and Alan Stamm for NIEonline.com, Copyright 2017
We welcome comments or suggestions for future topics:
Click here to Comment
Front Page Talking Points Archive

President's budget starts debate over proposed military boost and deep cuts elsewhere

March Madness: Being a college basketball fan can be contagious this time of year

'Hidden Figures,' a hit film about NASA pioneers, is entertainment that educates and inspires

The president's team: Six cabinet seats remain empty more than a month after Trump took office

A big U.S. employment challenge comes from automation, not just foreign competition

High school students value First Amendment safeguards on speech and media, survey shows

Supreme Court nominee Neil Gorsuch awaits Senate review and confirmation vote

Trump temporarily bans all refugees, plus citizens from 7 nations with Muslim majorities

Climate data from 2016 shows need to reduce fossil fuel emissions, experts say

Presidential swearing-in: Ceremonies, parade and dancing on a historic Friday in Washington, D.C.

Complete archive