Common Core State Standard
SL.CCS.1/2/3/4 Grades 6-12: An essay of a current news event is provided for discussion to encourage participation, but also inspire the use of evidence to support logical claims using the main ideas of the article. Students must analyze background information provided about a current event within the news, draw out the main ideas and key details, and review different opinions on the issue. Then, students should present their own claims using facts and analysis for support.
FOR THE WEEK OF JULY 21, 2014
Israeli response to missiles from Gaza spurs debate over media fairness and balance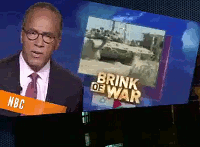 Pick a news story on the conflict and look for language that's even-handed. Do any words not in quotes seem "loaded?"

Discuss how photo choices from Israel or Gaza can touch readers' emotions. Look for an example.

Now pay attention to headlines. Do any on this topic appear to reflect a point of view that's not neutral?
Coverage of an ongoing conflict in the Gaza Strip, a Palestinian region next to Israel, is on newspaper front pages and in broadcasts worldwide. After escalating clashes with Hamas, which has governed the Gaza territory since 2007, Israel on July 8 began a ground and aerial offensive. This past Sunday, it was reported that 13 Israeli soldiers and 87 Palestinian militants were killed. Far from the battle, partisans and commentators debate whether outside news reports tilt toward or against Israel. Some critics say wire services and major media tend to frame the situation this way: Palestinians attack and Israelis fight back. Others see pro-Palestinian sympathies in coverage of Gaza's civilian victims.
"Charges of bias [are] coming from both sides," writes New York Times public editor Margaret Sullivan under the headline "A Deluge of Reader Complaints on Israel-Palestine Coverage." After reader objections, The Times changed a head saying "Palestinian Death Toll Nears 100 as Hamas Promises More Attacks on Israel." That wording, critics felt, suggested Hamas is responsible for casualties on its side.
In London, The Guardian newspaper's reader representative, Chris Elliott, says: "Language and images are at the heart of the latest round of complaints. . . . When hundreds of images are published in print and online every day, we don't always get it right." Also in the United Kingdom, the British Broadcast Corporation was blasted for a post headlined: "Israel Under Renewed Hamas Attack." When Palestinians and others noted that Israel sends fighter jets, helicopters, drones and sophisticated missiles against an enemy firing low-range missiles, the head was rewritten.

New York Times says: "The tone of [reader comments online] . . . is one more indication of the polarized and passionate reaction not only to this continuing story itself, but to the way The Times is covering it." – Margaret Sullivan, public editor

Journalist says: "There is a bias within the American press . . . that requires Israel to hold itself to a higher standard because Israel claims to." – Judith Miller, former New York Times reporter

British columnist says: "The media coverage hardly reflects the reality." -- Owen Jones, The Guardian newspaper
Front Page Talking Points
is written by Alan Stamm for NIEonline.com, Copyright 2014
We welcome comments or suggestions for future topics:
Click here to Comment
Front Page Talking Points Archive
►Israeli response to missiles from Gaza spurs debate over media fairness and balance
►This only sounds like science fiction: Driverless cars roll closer to reality
►Surprise: Some Facebook users were in an experiment they didn't know about
►New twist in Washington Redskins team name controversy: Trademark status is at risk
►New federal student loan break puts an income-based lid on monthly payments
►Uneasy homecoming: Controversies accompany U.S. soldier's release by Taliban in Afghanistan
►Michelle Obama, speaking as a mom and as first lady, defends school nutrition rules
►Computer coding gains status as a vital part of education, even in some elementary schools
►Leisure time book reading isn't a joy for most teens, study shows
►Polio, a nearly eliminated childhood disease, poses new risks in some nations overseas