Common Core State Standard
SL.CCS.1/2/3/4 Grades 6-12: An essay of a current news event is provided for discussion to encourage participation, but also inspire the use of evidence to support logical claims using the main ideas of the article. Students must analyze background information provided about a current event within the news, draw out the main ideas and key details, and review different opinions on the issue. Then, students should present their own claims using facts and analysis for support.
FOR THE WEEK OF APR 14, 2014
E-cigarettes spark discussions about health benefits and teen use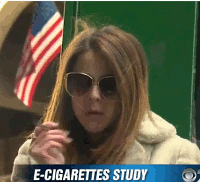 Try to spot a story or ad featuring an item not intended for minors. List reasons why that does or doesn't seem right.

Federal officials don't regulate e-cigarettes yet. Look for an example of a government agency trying to protect the public and tell what you think of its actions.

Now find any other health news and tell how it could apply to you or your family.
Electronic cigarettes, also called vapor cigarettes, are gaining popularity and igniting disputes over whether they're a positive alternative to tobacco. Users inhale nicotine through a liquid that's heated into vapor, which is a fine mist. The new product, powered by a tiny battery, eliminates deadly tar while offering the sensation of smoking and the stimulation of nicotine -- a natural drug that makes cigarettes addictive. Research suggests that e-cigarettes deliver nicotine faster than gum or lozenges, two smoking habit "cures" that never took off.
Sales of e-cigarettes more than doubled last year from 2012, to $1.7 billion. Even major tobacco firms sell them. Backers see cigarette look-alikes as an advance that could do to cigarettes what computers did to typewriters. Others fear that e-cigarettes may undercut the decline in U.S. smoking. The worry that the socially acceptable gadgets make mock smoking attractive and will introduce teens to the deadly, old-fashioned habit. Critics also worry that adult smokers will stay hooked longer because they can get a nicotine fix at their desks and other spots where smoking is banned or inconvenient, rather than decreasing their dependency as with other methods.
One concern is that students who never smoked are trying the new tools, which are sold online. Liquids that make their vapor come in fruit and dessert flavors like apple pie, banana cream, chocolate, mango, blackberry, watermelon and dozens more. "Middle schoolers are starting off with e-cigarettes and then progressing to conventional cigarettes," warns Dr. Thomas Frieden, director of the federal Centers for Disease Control. Smoking remains the single largest cause of preventable death in America, killing about 480,000 people a year.

Backer says: "The electronic cigarette is the first harm-reduction product to gain serious traction among American smokers. Yet the public health community is not cheering." – Joe Nocera, New York Times columnist

Critic says: "E-cigarettes seem like a good idea, but they aren't." – Stanton A. Glantz, professor of medicine at the University of California-San Francisco

City proposals: New York City and Chicago may add e-cigarettes to their bans on smoking in bars, restaurants and parks.
Front Page Talking Points
is written by Alan Stamm for NIEonline.com, Copyright 2014
We welcome comments or suggestions for future topics:
Click here to Comment
Front Page Talking Points Archive
►E-cigarettes spark discussions about health benefits and teen use
►Safety campaign combats distracted driving with dramatic ad, new website and #justdrive tag
►White House posts climate change details at new website as part of push for action
►Even President Obama is caught up in the NCAA basketball tournament's March Madness
►'Cosmos' science series on TV aims to show how 'we're all connected'
►Sweeping changes will make the SAT more relevant and useful, College Board says
►'My Brother's Keeper' is Obama's name for effort to help at-risk young men
►This season of wicked weather brings above-normal ice coverage on all Great Lakes
►Warm days make the last week of Olympic action in Russia seem like the Spring Games
►Major drugstore chain will stop selling tobacco items as improper for a health retailer