Student News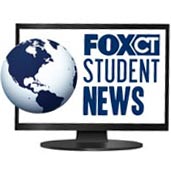 FOX CT Student News, FSN, is a nationally recognized student-centered program designed to give students real-world experiences in multimedia journalism and production. The program is part of WTIC's long term commitment to promote excellence in education for all children and youth and is free of charge to Connecticut middle and high schools.
The Details
We will use one of the highest visibility platforms in the state, fox61.com, to showcase the work of the students. Using the web allows us to add to the information in the stories.
Students will be able to tell their stories using text and video.
Student journalists who previously had only worked in print or stills can now be integrated into this program.
Visit our Student News page http://fox61.com/studentnews/ to see what other schools are doing.
Each story will have its own unique page with a URL. Students, parents or schools can post the story to social media.
Each student produced and hosted segment will showcase a local story or event, highlighting all that is great about our state and align with our station's mission of HOPE. Segments will be featured on-air during Friday's Morning News at 6:20 a.m. 8:20 a.m., the 5 and 10 p.m. news, twice during the FOX61 Morning News on Saturday, on our Facebook page and right here on FOX61.com!
We are looking for 1 minute 20 second stories that are student produced. The students should develop the subject, shoot the B Roll and interviews, write, produce and edit the stories. The news stories should be of general interest to a wide audience throughout the state. They should be evergreen, meaning that they are not particularly time sensitive. The stories should be journalistically sound, present both sides of an issue and answer the "who, what, why, when, where and how."
We are happy to help guide you, and provide speakers if needed.