Student News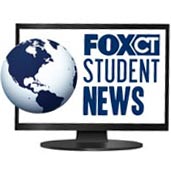 FOX CT Student News, FSN, is a nationally recognized student-centered program designed to give students real-world experiences in multimedia journalism and production. The program is part of WTIC's long term commitment to promote excellence in education for all children and youth and is free of charge to Connecticut middle and high schools.
The Details
We will use one of the highest visibility platforms in the state, foxct.com, to showcase the work of the students. Using the web allows us to add to the information in the stories.
Students will be able to tell their stories using three distinctive formats; text, video, and pictures.
Student journalists who previously had only worked in print or stills can now be integrated into this program.
We are redesigning our Student News page http://fox61.com/studentnews/ in order to make it a destination for news by, for and about Connecticut Students. Check out the redesigned page starting in November.
Each story will have its own unique page with a URL. Students, parents or schools can post to social media like Facebook, Twitter or Google +.
Students will submit stories that will meet the following requirements:
Video up to 90 seconds uploaded to a dedicated YouTube account
Up to 10 photos, with captions, uploaded to a dedicated photo sharing service
Minimum 200 word text story that includes links to the subject matter
We urge new teachers and schools to participate in this program.
In order to upload a video for Fox CT Student News an affidavate must be filled out and submitted.
Download the Affidavit here