Common Core State Standard
SL.CCS.1/2/3/4 Grades 6-12: An essay of a current news event is provided for discussion to encourage participation, but also inspire the use of evidence to support logical claims using the main ideas of the article. Students must analyze background information provided about a current event within the news, draw out the main ideas and key details, and review different opinions on the issue. Then, students should present their own claims using facts and analysis for support.
FOR THE WEEK OF JAN. 30, 2012
Super Bowl brings Giants-Patriots rematch and a first-time boost for Indianapolis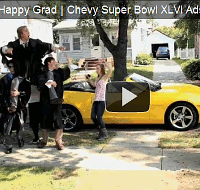 Find any Super Bowl preview story that interests you and tell why it's appealing or what you learned.

Now look for a report on the event's financial impact or other business-related coverage, including commercials.

If you're a sports fan, see if you spot an opinion column or interview predicting who'll win or what could determine the outcome. Do you agree?
High school and college football games ended weeks ago, and the NFL's regular season wrapped up on New Year's Day. But football for 2011-12 doesn't end until a Super Bowl rematch next Sunday between the New York Giants and New England Patriots. They face off at Lucas Oil Stadium in Indianapolis four years after their last championship showdown, which the Giants narrowly won 17-14. Both head coaches (Tom Coughlin of the Giants and Bill Belichick of the Patriots) and both starting quarterbacks (Eli Manning of New York and Tom Brady of New England) were in the same roles in 2008. Overall, seven Patriots and 16 Giants players from their last Super Bowl showdown will be on the field again.
The Feb. 5 game is the first Super Bowl in Indianapolis, which has a four-year-old domed stadium. Kelly Clarkson will sing the national anthem and Madonna performs during halftime. The big game brings a windfall of pride and revenue for hotels, restaurants, clubs and shops. The host city and National Football League have dozens of public events this week, including an open-air Super Bowl Village downtown that includes two music stages, food stands, souvenir booths and zip-line rides.
The massive global TV audience Sunday evening makes the game a huge deal for advertisers, who pay an average of $3.5 million for a 30-second commercial. Doritos has a poll at crashthesuperbowl.com to let fans vote on which of five spots should be shown. Other companies with social media tie-ins and online promotions include Dannon yogurt, Volkswagen and Chevrolet, which will air a hilarious one-minute spot by a young contest winner. Zach Borst, a 26-year-old aspiring filmmaker from Long Island, N.Y., gets $25,000 and national exposure for his spot showing a teen who thinks a Camaro convertible is his graduation gift. The ad, which you can watch below, has been played more than 730,000 times on YouTube since Jan. 19.

Indianapolis resident says: "It's like we're in a different city. It doesn't normally feel like we're the 12th-largest city in America. Today it does." - Mary Snyder, 23, at Super Bowl Village

Sports columnist says: "It now is impossible to separate the Super Bowl event from the Super Bowl game. . . . That's why debates about the commercials will rival, if not surpass, debates about the game. That's why people want to make the Monday after the Super Bowl a national holiday." - Michael Zuidema, Grand Rapids (Mich.) Press

Motel owner says: "This is once-in-a-lifetime good money. This money helps pay my back taxes. " - Venkata Nattam, co-owner of three motels in Plainfield, Ind.
Front Page Talking Points
is written by Alan Stamm for NIEonline.com, Copyright 2017
We welcome comments or suggestions for future topics:
Click here to Comment
Front Page Talking Points Archive
►A starting whistle blows this week for holiday shopping online and in stores
►Get used to cars without drivers because they're starting to roll out of labs and onto streets
►Congress pushes social media firms to block foreign election mischief on their influential sites
►'Reckless, outrageous and undignified:' 3 Republican senators and an ex-president speak out about Donald Trump
►New evidence of huge stars colliding long ago excites astronomers
►'What Happened:' Hillary Clinton revisits Campaign '16 in her book and national tour
►'Democracy on the line:' Supreme Court considers what's legal when politicians redraw election district maps
►As Puerto Rico struggles after devastating hurricane, Trump feels backlash about pace of help
►Another climate change impact: Solidly frozen Alaskan permafrost is thawing
►Scientists urge changes to ease impact of what flows down the Mississippi River into the Gulf of Mexico