Special Video Report
Courtesy: National Science Foundation, NBC-Learn and The National Science Teachers Association (NSTA)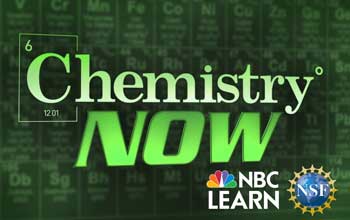 "Chemistry Now" consists of 32 learning packages that aim to break down the chemistry behind things such as cheeseburgers and chocolate or soap and plastics. A new topic will be explored each week starting in January and running through May. The series will then resume in the fall of 2011 to keep pace with the academic school year.
Made especially for students and teachers to explore chemistry in and beyond the classroom, the online videos are matched with lesson plans from the National Science Teachers Association (NSTA) and are available cost-free on www.NBCLearn.com, www.NSF.gov and http://nstacommunities.org/blog/.
Weekly content includes original video stories that illustrate real-world applications of chemistry; current events and archival news stories related to chemistry; original source documents and images from the Chemical Heritage Foundation; articles from the archives and current publications of Scientific American; and content-coordinated lesson plans for middle and high school students, produced by national curriculum specialists at NSTA.
"The International Year of Chemistry is an excellent opportunity to reach out to the public and convey to them the ways in which chemistry is involved in their lives each and every day," said Matthew Platz, director of NSF's Division of Chemistry. "We are especially excited about the opportunity that this collaboration gives us to reach out to large numbers of intelligent, energetic young people who might not have imagined that they could be contributing members of this thrilling, dynamic field."
"Chemistry Now" builds on a number of other collaborations between NBC Learn and NSF, in their partnership to advance the understanding of and interest in science, technology, engineering and math. As part of the partnership, NBC Learn--the educational arm of NBC News-- oversees all production of the learning packages and contributes original video, as well as historic news coverage, documentary materials and current news broadcasts from NBC News.
"Today's students thrive on the opportunity to learn from real life examples of what they are studying in school," said Soraya Gage, executive producer of NBC Learn. "Using unique and engaging storytelling, NBC News can help break down barriers to understanding complicated scientific concepts." '
"'Chemistry Now' provides a fantastic opportunity for teachers to supplement classroom learning by using video and lesson plans that are supported with rich, accessible pedagogy," said Francis Eberle, executive director of NSTA. "We are delighted to contribute to the project, and we know chemistry educators will find the packages useful."