Banana boom brings cash and chemicals to Laos
Q: Chinese banana growers have brought jobs and higher wages to northern Laos, but have also drenched plantations with pesticides and other chemicals, experts say. Where is Southeast Asian nation of Laos?
Circle the area on this map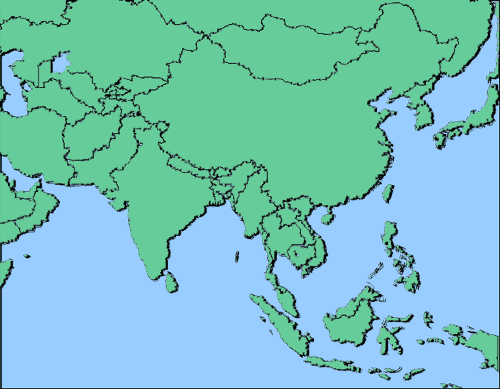 ---
Q: Laotians say Chinese banana investors began streaming across the border around 2010, driven by land shortages in China, which is . . .


A. North of Laos 



B. East of Laos 



C. South of Laos 



D. West of Laos


Q: China is the biggest foreign investor in Laos, a landlocked country of 6.5 million people. Chinese build shopping complexes and run some of the fanciest hotels in the nation's capital . . .


A. Bangkok  



B. Hanoi 



C. Phnom Penh



D. Vientiane


Q: Chinese investment in Laos is being touted as part of huge plan to boost commerce between China and 60 countries in Asia, Europe, the Middle East and North Africa. The plan is based on what historic trade route?


A. Incense Route



B. Magellan Strait



C. Silk Road



D. Triangle Trade


Q: This week China is hosting 28 heads of state at a summit about its so-called "Belt and Road" initiative. The proposed program is 11 times the size of the U.S. Marshall Plan that rebuilt what region after World War II?


A. Asia



B. Europe



C. Middle East



D. All of the above


---
Answers for this quiz: Click here