---
Syrian man trapped in Malaysia airport
Q: Hassan al-Kontar fled his home to avoid conscription into the Syrian army and fighting in that nation's vicious civil war. After losing his job and other misadventures, he ended up living in a Malaysian airport for more than a month with nowhere else to go. Where is Malaysia?
Circle the area on this map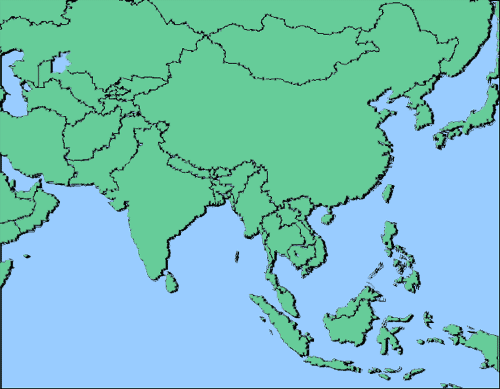 ---
Q: After losing his work permit in the United Arab Emirates (UAE), he was deported to Malaysia, later went to Cambodia, was denied entry was sent back to Malaysia and denied reentry. Since March 7th, has been stuck at the airport in Malaysia's capital . . .


A. Damascus



B. Dubai



C. Kuala Lumpur



D. Phnom Penh


Q: Kontar said there is an arrest warrant waiting for him in Syria. "I'm not a killing machine and I don't want any part in destroying Syria," he said. Recent events in Syria's vicious civil war threatens a wider conflict between the United States and . . .


A. Iran



B. Russia



C. Syria



D. All of the above


Q: Malaysia, one of the few countries willing to grant Syrians visas on arrival, refused to allow Kontar to reenter the country because he had overstayed his earlier three-month tourist visa.  What is the religion of most of Malaysia's nearly 32 million people?


A. Islam



B. Buddhism



C. Christianity



D. Hinduism


Q: "It's not only my problem," Kontar said of his situation. "It's the problem of hundreds of Syrian guys who feel they are hated, rejected, unwanted, weak, lonely." How many Syrians have fled their country in its civil war?


A. 22 million



B. 13.5 million



C. 6 million



D. 5 million


---
Answers for this quiz: Click here