Climate change opens the Arctic to shipping
Q: Climate change and melting ice, is allowing the world's biggest shipping company to send its first container ship from Eastern Asia to Europe via the Arctic Ocean's Northeast Passage. Where is the Northeast Passage?
Circle the area on this map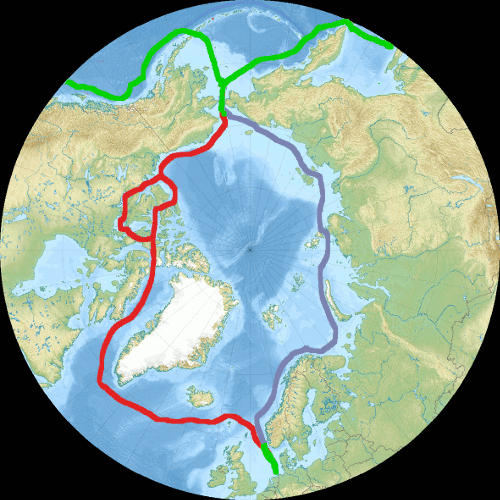 ---
Q: The Northeast Passage cuts the shipping distance between China and Europe by about 5,000 miles compared with the usual route through the . . .


A. Drake Passage



B. Panama Canal



C. Strait of Juan de Fuca



D. Suez Canal


Q: What nation stands to gain the most from using the Northeast Passage as a regular shipping lane?


A. Canada



B. Denmark



C. Russia



D. United States


Q: Which nation claims sovereignty over most of the Northwest Passage, the other route through the Arctic Ocean?


A. Canada



B. Norway



C. Russia



D. United States


Q: The oldest and thickest sea ice in the Arctic has started to break up. For the first time in recorded history this summer there were open waters north of . . .


A. Alaska



B. Greenland



C. Finland



D. Iceland


---
Answers for this quiz: Click here