Nicaragua arrests opponents to president
Q: Nicaraguan authorities have arrested 11 potential presidential candidates and opposition leaders in what has been called an anti-democratic hunt for critics of President Daniel Ortega, who is expected to seek a fifth term in November. Where is the Central American nation of Nicaragua?
Circle the area on this map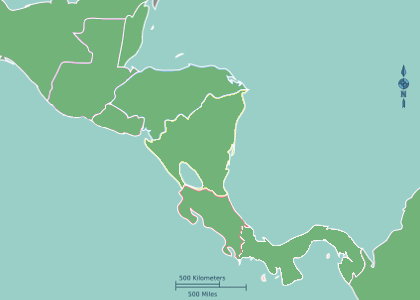 ---
Q: The top U.S. diplomat for Latin America, Julie Chung, said the arrests "should resolve any remaining doubts about Ortega's credentials as a dictator". Ortega first gained power in 1979 after he helped lead a revolution which ousted dictator Anastasio Somoza. What nation backed the Somoza family dictatorship that ruled Nicaragua more than four decades?


A. Britain



B. Spain



C. United States



D. Soviet Union


Q: The U.S. stopped economic aid to Nicaragua after Ortega and his new left-wing government were accused of sending arms to leftist rebels in what Central American nation?


A. Colombia



B. El Salvador



C. Peru



D. Venezuela


Q: President Ronald Reagan used the CIA in the 1980s to support right-wing "Contra" rebels waging a civil war against Ortega and his government. His administration illegally sold weapons to which nation to use the money help the Contras?


A. Iran



B. Iraq



C. Lebanon



D. Syria


Q: Ortega has accused the people he arrested of helping the United States and others trying to oust him. His popularity plummeted after he violently put down anti-government protests in 2018, killing hundreds and sparking more economic sanctions. Which nation has NOT imposed sanctions on Nicaragua?


A. Britain



B. France



C. Germany



D. Russia


---
Answers for this quiz: Click here