Gunmen kill the president of Haiti in his bedroom
Q: Haitian authorities said they had arrested 20 people in the assassination of President Jovenel Moïse in the bedroom of his home last week. Where is the nation of Haiti on the western side of the Caribbean island of Hispaniola?
Circle the area on this map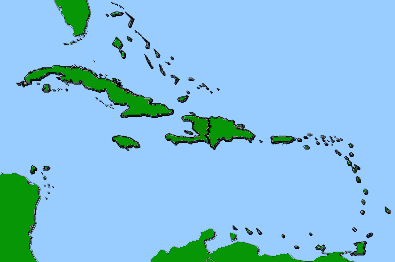 ---
Q: Two of those arrested were identified as U.S. residents of Haitian descent. The rest were from Colombia. Where Colombia is located?


A. Caribbean Sea



B. Central America



C. North America



D. South America


Q: There were no reports that the attackers injured any of the president's guards or even exchanged gunfire with them when Moïse's home on the outskirts of Haiti's capital was invaded about 1 a.m. Wednesday. What is the capital of Haiti?


A. Kingston



B. La Navidad



C. Port-au-Prince



D. Santo Domingo


Q: Santo Domingo is the capital of nation that shares the island of Hispaniola with Haiti. What is the name of that nation, which closed its border with Haiti after the assassination?


A. Dominica



B. Dominican Republic



C. Saint Martin



D. Sint Martin


Q: Haiti's interim government said it asked the U.S. to deploy troops to protect key infrastructure as it tries to stabilize the country after Moïse's assassination. How long did U.S. Marines occupy Haiti after the nation's last presidential assassination?


A. Nearly 20 years



B. 20 months



C. 20 weeks



D. 20 days


---
Answers for this quiz: Click here