---
Additional Resources for Your Classroom


Find over 300 resources that include teacher guides, student supplements, teacher training modules and so much more.

Common Core State Standard
SL.CCS.1/2/3/4 Grades 6-12: An essay of a current news event is provided for discussion to encourage participation, but also inspire the use of evidence to support logical claims using the main ideas of the article. Students must analyze background information provided about a current event within the news, draw out the main ideas and key details, and review different opinions on the issue. Then, students should present their own claims using facts and analysis for support.
FOR THE WEEK OF DEC. 07, 2009
World leaders meet in Denmark to focus on global warming responses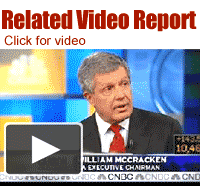 Read an article about the climate summit and see if it presents clear background about what's being discussed and what's at stake. Are any unfamiliar terms explained?

Look for an editorial, cartoon or opinion column about the Copenhagen conference. Tell why you agree or disagree with the point of view.

Environmental protection is also a local concern with personal impact. Identify an article or photo that shows why you value nature and want clean air, water and land.
Officials from 192 countries that share our planet are trying again to protect it from climate change trends that worry some scientists. Environment ministers and other government leaders are in Copenhagen, capital of Denmark in Europe, for a United Nations conference on global warming that runs through Dec. 18. President Obama plans to attend, as do more than 85 other national leaders.
It's part of a long-term struggle to balance environmental and economic policies. Most experts believe "greenhouse gas" emissions from burning coal and oil in factories, vehicles and utility plants should be reduced to slow or halt a rise in average atmospheric temperatures. This global warming could bring floods, droughts, coastal erosion and food shortages as polar ice caps melt.
Alternative fuel advocates say research and development of new power sources would bring economic as well as environmental benefits by creating new industries and jobs. Skeptics question the scientific projections and economic impact.
The Obama administration says he'll present a U.S. target for reducing carbon dioxide emissions in the years and decades ahead. One of the toughest hurdles in Copenhagen will be reaching agreement among industrialized countries and developing nations such as India and China over who should cut, by how much and who should pay for it. Some emerging countries resist energy use restrictions that could limit their growth.
The UN's climate chief suggests a two-stage process of agreeing this month on an outline for a more formal agreement to be considered late next year.

U.S. senator says: "You'll never convince me that America cannot have the cleanest air and the purest water of any place on the planet. If Congress does not act soon, the world will leave us behind." -- Sen. Lindsey Graham, R-N.C.

Environmental leader says: "Now is the time for people to speak up and tell our leaders that yes, we want to solve global warming. We want to create green jobs, reduce our reliance on dirty fossil fuels, and produce the next generation of clean energy technologies." -- Frances Beinecke, president, Natural Resources Defense Council

European official says: "Complexity is no excuse for complacency. . . . If the whole world comes to Copenhagen and leaves without making the needed political agreement, then . . . it's the whole global democratic system not being able to deliver results in one of the defining challenges of our century." -- Connie Hedegaard, Danish minister for climate and energy
Front Page Talking Points
is written by Alan Stamm for NIEonline.com, Copyright 2017
We welcome comments or suggestions for future topics:
Click here to Comment
Front Page Talking Points Archive
►Get used to cars without drivers because they're starting to roll out of labs and onto streets
►Congress pushes social media firms to block foreign election mischief on their influential sites
►'Reckless, outrageous and undignified:' 3 Republican senators and an ex-president speak out about Donald Trump
►New evidence of huge stars colliding long ago excites astronomers
►'What Happened:' Hillary Clinton revisits Campaign '16 in her book and national tour
►'Democracy on the line:' Supreme Court considers what's legal when politicians redraw election district maps
►As Puerto Rico struggles after devastating hurricane, Trump feels backlash about pace of help
►Another climate change impact: Solidly frozen Alaskan permafrost is thawing
►Scientists urge changes to ease impact of what flows down the Mississippi River into the Gulf of Mexico
►Eye-opening new book explores how phones and tablets affect 'today's super-connected kids'