---
Additional Resources for Your Classroom


Find over 300 resources that include teacher guides, student supplements, teacher training modules and so much more.

Common Core State Standard
SL.CCS.1/2/3/4 Grades 6-12: An essay of a current news event is provided for discussion to encourage participation, but also inspire the use of evidence to support logical claims using the main ideas of the article. Students must analyze background information provided about a current event within the news, draw out the main ideas and key details, and review different opinions on the issue. Then, students should present their own claims using facts and analysis for support.
FOR THE WEEK OF MAY 17, 2010
Impact of Gulf of Mexico oil blowout widens as it flows into second month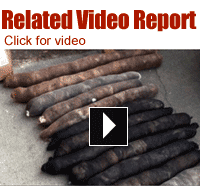 Look for comments from your area or coverage reflecting the impact beyond Louisiana.

Find a photo or graphic, such as a map, with a vivid look at what's happening in the Gulf of Mexico.

The catastrophe affects discussions about energy policy, offshore drilling and alternative fuels. Can you spot an editorial, opinion column or reader comments about any long-term issues?
Undersea crude oil has gushed into the Gulf of Mexico near Louisiana since a fiery, deadly drilling accident April 20, and experts still were struggling to control the massive gusher as this week began. British Petroleum (BP), the main drilling company involved, is trying many ways to contain the gooey mess and skim it off coastal waters.
With the environmental disaster entering a second month Tuesday, the toll on marine life, birds, beach resorts and commercial fishing for shellfish and other catches is escalating daily. Louisiana license plates say "Sportsman's Paradise," but there's a huge economic cloud in paradise. Tourists are canceling hotel and charter boat reservations. Restaurants and supermarkets around the country are switching to farm-raised shrimp from South America or Asia as shortages already boost the cost of Gulf supplies.
In the scramble to stop the pollution, BP on Monday reported "good progress" threading a mile-long, six-inch tube with a rubber stopper into the 21-inch pipe spewing oil from the ocean floor. "We're really pleased that we're capturing some of the flow," a top executive said. The company hopes to halt the flow in about a week. In another new move, federal officials let BP spread chemicals underwater to break the oil into small drops and prevent it from reaching the surface or shore.
Cleanup efforts at the surface include controlled burning, skimming and an offbeat new tactic -- deploying nylon "booms" filled with donated human and pet hair that absorbs oil readily. (See video below.) An underwater strategy not yet attempted involves plugging the open pipe with bits of tires, golf balls and all kinds of junk -- sort of like purposely clogging a sink or toilet.

President says: "I'm not going to rest or be satisfied until the leak is stopped at the source, the oil in the Gulf is contained and cleaned up, and the people of the Gulf are able to go back to their lives and their livelihoods." -- President Obama, May 14 at White House

BP head says: "You can't have an incident of this seriousness and not expect significant changes [in drilling rules] as a consequence." -- Tony Hayward, chief executive

Fisherman says: "This is going to make Hurricane Katrina look like a drop in the bucket." -- Robert Campo, fourth-generation commercial fisherman in Shell Beach, La.
Front Page Talking Points
is written by Felix Grabowski and Alan Stamm for NIEonline.com, Copyright 2017
We welcome comments or suggestions for future topics:
Click here to Comment
Front Page Talking Points Archive
►A starting whistle blows this week for holiday shopping online and in stores
►Get used to cars without drivers because they're starting to roll out of labs and onto streets
►Congress pushes social media firms to block foreign election mischief on their influential sites
►'Reckless, outrageous and undignified:' 3 Republican senators and an ex-president speak out about Donald Trump
►New evidence of huge stars colliding long ago excites astronomers
►'What Happened:' Hillary Clinton revisits Campaign '16 in her book and national tour
►'Democracy on the line:' Supreme Court considers what's legal when politicians redraw election district maps
►As Puerto Rico struggles after devastating hurricane, Trump feels backlash about pace of help
►Another climate change impact: Solidly frozen Alaskan permafrost is thawing
►Scientists urge changes to ease impact of what flows down the Mississippi River into the Gulf of Mexico