---
Additional Resources for Your Classroom


Find over 300 resources that include teacher guides, student supplements, teacher training modules and so much more.

Common Core State Standard
SL.CCS.1/2/3/4 Grades 6-12: An essay of a current news event is provided for discussion to encourage participation, but also inspire the use of evidence to support logical claims using the main ideas of the article. Students must analyze background information provided about a current event within the news, draw out the main ideas and key details, and review different opinions on the issue. Then, students should present their own claims using facts and analysis for support.
FOR THE WEEK OF AUG. 16, 2010
Tech tools are cool for school, students and educators agree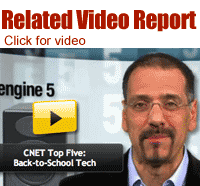 Find any type of back-to-school coverage. See if at least one student is quoted or pictured.

Look for technology news of interest, particularly about devices or apps that can be used for play and learning. If there's one you'd like, tell why.

Discuss or list ways the newspaper can be used in class, for homework and for general knowledge-building.
As back-to-school season gains momentum, technology is at or near the top of many shopping lists. Laptop sales overtook those of desktops last year for the first time, and now smart phones, e-readers and the new iPad are seen as the next instructional tools. No matter what online access path is chosen, all sorts of apps and mobile technologies can help with studying and class projects.
The iPad touch-screen tablet introduced this year draws interest from parents, educators and tech reviewers. It's light (1.5 pounds) and students can use a wireless keyboard or iPad Keyboard Dock for book reports, term papers or other assignments. Apple sells more than 1 million a month, and it's first among the Top 5 tech items for this school year ranked by CNET, a popular tech site (see video below). Dozens of education apps are geared to all subjects and grades, and include some for special-needs pupils or for evaluating college choices.
Districts also embrace the tablet as an alternative to traditional computers. In North Adams, Mass., the public schools used a state grant to buy 16 iPads and develop online courses for those who fail a high school class. Instead of repeating the course or attending summer school, teens study via the iPad and meet for a half-hour each week with a teacher-mentor. "They're the wave of the future," the system superintendent says of iPads. "It's cutting-edge technology." At a higher level, students receive iPads this fall at Seton Hill University in Greensburgh, Pa., and at Stanford School of Medicine in California. Other colleges are testing the device in pilot programs.
Smart phone and iPad users can choose from an array of free or cheap apps that help students at any age. Math Trainer for Blackberry ($2.99) can be set at elementary, middle or high school levels. Capital Quiz for Android is a 79-cent geography game. Sentence Builder for iPad ($2.99) reinforces grammar lessons. Star Walk for iPhone ($2.99) and iPad ($4.99) teaches about astronomy while looking at the night sky. .

Student says: "This [iPad] is a perfect tool for what I need to do. . . I probably won't use my laptop in class anymore." -- Stesha Doku, Stanford medical student

Educator says: "Technology does assist kids who think school is boring. It goes right into their hands." -- Michael Mangini, computer systems manager for Cranford (N.J.) School District

Blogger says: "If when I was in high school I had been handed an iPad, I would never have skipped a class again." -- Alex Wilhelm at thenextweb.com
Front Page Talking Points
is written by Felix Grabowski and Alan Stamm for NIEonline.com, Copyright 2017
We welcome comments or suggestions for future topics:
Click here to Comment
Front Page Talking Points Archive
►A starting whistle blows this week for holiday shopping online and in stores
►Get used to cars without drivers because they're starting to roll out of labs and onto streets
►Congress pushes social media firms to block foreign election mischief on their influential sites
►'Reckless, outrageous and undignified:' 3 Republican senators and an ex-president speak out about Donald Trump
►New evidence of huge stars colliding long ago excites astronomers
►'What Happened:' Hillary Clinton revisits Campaign '16 in her book and national tour
►'Democracy on the line:' Supreme Court considers what's legal when politicians redraw election district maps
►As Puerto Rico struggles after devastating hurricane, Trump feels backlash about pace of help
►Another climate change impact: Solidly frozen Alaskan permafrost is thawing
►Scientists urge changes to ease impact of what flows down the Mississippi River into the Gulf of Mexico