---
Additional Resources for Your Classroom


Find over 300 resources that include teacher guides, student supplements, teacher training modules and so much more.

Common Core State Standard
SL.CCS.1/2/3/4 Grades 6-12: An essay of a current news event is provided for discussion to encourage participation, but also inspire the use of evidence to support logical claims using the main ideas of the article. Students must analyze background information provided about a current event within the news, draw out the main ideas and key details, and review different opinions on the issue. Then, students should present their own claims using facts and analysis for support.
FOR THE WEEK OF AUG. 30, 2010
Debate over Islamic mosque near ground zero shows sensitivity of words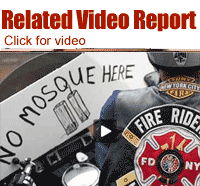 Read an article about the Islamic center plan in Lower Manhattan and tell if you think it's balanced. Is the location described fairly in the text and headline? Beyond quotes from either side, do tone and word choices seem neutral?

Pick an editorial, column or guest commentary on any other topic and look for loaded language. While this is OK in opinion writing, try to substitute words to make a different point or tone down the rhetoric.

Ads obviously use words to persuade. Find one with phrasing that seems extreme, amusing or even silly.
&video
Work is nowhere near ready to start on a proposed Muslim center two blocks from the World Trade Center destroyed on 9/11. The group planning it still needs to arrange financing, for one thing. But the project, which won city approval in May, is a national flashpoint for hot talk about freedom, sensitivity, symbolism, tolerance, respect, a sacred site and a sacred faith. As with other touchy topics, words are selected strategically to sway opinions.
Is it a mosque for prayers or a community center? Would it rise "on hallowed ground" or blocks away? Does it dishonor 9/11 victims or display America's diversity and openness? Are opponents patriots or "Islamophobic" (fearing Muslims)? In each case, it depends who's talking.
Critics use "ground zero mosque" and "hallowed ground," sometimes in one sentence. Proponents and journalists generally say the location is near ground zero and note that the group already has a mosque a dozen blocks from the Trade Center site, led by a moderate clergyman (called an imam) who condemns terrorists. Some note that its proposed new site will be for recreation, education and social events as well as for prayers. An unrelated mosque is five blocks from the 16-acre area attacked on 9/11.
Distinctions can blur in the era of online information as the most frequent wording gains a big boost from prominent rankings on Google, Bing, Yahoo! and other search engines. That concerns journalism scholar Kelly McBride of the Poynter Institute, a training center in Florida. "Accurate or not, people are searching for the term 'ground zero mosque.' So if you want to reach people who are looking for information, you have to use that term," she posted last week. She and others urge news producers and consumers to watch for efforts by any partisans to use loaded language that frames a debate in lasting ways. "With the rise in the number of voices that can command an audience, it stands to reason that the number of distortions will also rise," McBride wrote.

Mayor says: "This mosque has been operating for over a year, there's nothing new here. The difference is, this is election season. This is, plain and simple, people trying to stir up things to get publicity and trying to polarize people so they can get some votes." -- Michael Bloomberg of New York on The Daily Show with Jon Stewart, Aug. 26

Ex-mayor says: "Are they displaying the sensitivity they claim by building it?. . . The reality is that right now, if you are a healer, you do not go forward with this project. If you're a warrior, you do." -- Rudy Giuliani, New York's mayor on 9/11, speaking Aug. 19 on the Today Show

Editor says: "A few of our headlines have said 'ground zero mosque,' and we felt that term wasn't as specific as it could be. . .. [That] leaves the impression that the mosque is right where the World Trade Center stood." -- Tom Kent, Associated Press deputy managing editor
Front Page Talking Points
is written by Felix Grabowski and Alan Stamm for NIEonline.com, Copyright 2017
We welcome comments or suggestions for future topics:
Click here to Comment
Front Page Talking Points Archive
►A starting whistle blows this week for holiday shopping online and in stores
►Get used to cars without drivers because they're starting to roll out of labs and onto streets
►Congress pushes social media firms to block foreign election mischief on their influential sites
►'Reckless, outrageous and undignified:' 3 Republican senators and an ex-president speak out about Donald Trump
►New evidence of huge stars colliding long ago excites astronomers
►'What Happened:' Hillary Clinton revisits Campaign '16 in her book and national tour
►'Democracy on the line:' Supreme Court considers what's legal when politicians redraw election district maps
►As Puerto Rico struggles after devastating hurricane, Trump feels backlash about pace of help
►Another climate change impact: Solidly frozen Alaskan permafrost is thawing
►Scientists urge changes to ease impact of what flows down the Mississippi River into the Gulf of Mexico