---
Additional Resources for Your Classroom


Find over 300 resources that include teacher guides, student supplements, teacher training modules and so much more.

Common Core State Standard
SL.CCS.1/2/3/4 Grades 6-12: An essay of a current news event is provided for discussion to encourage participation, but also inspire the use of evidence to support logical claims using the main ideas of the article. Students must analyze background information provided about a current event within the news, draw out the main ideas and key details, and review different opinions on the issue. Then, students should present their own claims using facts and analysis for support.
FOR THE WEEK OF OCT. 25, 2010
Obama takes science education message to Mythbusters show on TV - and that's a proven fact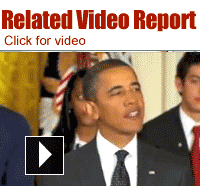 Find coverage of a science or technology topic of interest. Tell why you picked it.

Using any part of the newspaper, including ads, show why math ability is needed in everyday life.

Is any other TV show mentioned in news or entertainment pages this week?
President Obama, who's on TV pretty much every day, recently taped a guest role for a popular cable show where he's never appeared -- Mythbusters on the Discovery Channel. In an episode airing Dec. 8, the president will challenge the hosts to test the validity of an ancient Greek legend involving reflected sunshine and fire.
It's a chance for Obama to stress the value of math and science education, a theme he focused on last week at the first White House Science Fair honoring student winners of science, technology, engineering and math competitions. The two Discovery hosts were there, too. On Mythbusters each week, they apply scientific or engineering tests to check whether widely believed notions are true.
The episode with Obama will examine the story that a Greek scientist named Archimedes set fire to an invading Roman fleet by positioning 500 soldiers on shore with polished shields that directed the sun's rays at enemy boats. Instead of troops, the TV version will use 500 high school and middle school students from Alameda, Calif.
At the White House presentation, Obama told 25 students from across the country: "I expect some of you to be back here as Nobel Prize winners." Projects included a physical therapy chair for disabled children, a solar powered car, a hydro-power water purification system and a "smart" steering wheel that beeps when a driver takes one or both hands off. Obama, noting that steering wheel sensor would know when someone was texting while driving, mentioned his daughters: "So Malia and Sasha, once they start driving, I can have this thing on there."
"Often, we don't give these victories the attention that they deserve," the president added, standing with medal-wearing teens. "When you win first place at a science fair, nobody's rushing the field or dumping Gatorade over your head." The fair reinforced a push to improve student performance in math and science as part of state and local education reforms encouraged with federal money.

President says: "I taped a special guest appearance . . . although I didn't get to blow anything up. . . . I was a little frustrated about that." -- At White House Science Fair, Oct. 19

Co-host says: "Neither Adam [Savage] or I are scientists, we're not engineers or anything of the sort. . . . Fun for us happens to involve science and satisfying our curiosity." -- Jamie Hyneman

Mythbusters audience: The show's 13 million weekly viewers include many students aged 9-14.
Front Page Talking Points
is written by Alan Stamm for NIEonline.com, Copyright 2017
We welcome comments or suggestions for future topics:
Click here to Comment
Front Page Talking Points Archive
►'What Happened:' Hillary Clinton revisits Campaign '16 in her book and national tour
►'Democracy on the line:' Supreme Court considers what's legal when politicians redraw election district maps
►As Puerto Rico struggles after devastating hurricane, Trump feels backlash about pace of help
►Another climate change impact: Solidly frozen Alaskan permafrost is thawing
►Scientists urge changes to ease impact of what flows down the Mississippi River into the Gulf of Mexico
►Eye-opening new book explores how phones and tablets affect 'today's super-connected kids'
►As Houston works to recover from hurricane, possible role of climate change is studied
►New approach for a persistent, costly U.S. challenge: What to do in Afghanistan?
►Volley of threats between North Korea and U.S. cool down after tense exchanges
►There goes the sun: Solar eclipse over U.S. next week is a big deal – and not just for astronomers