---
Additional Resources for Your Classroom


Find over 300 resources that include teacher guides, student supplements, teacher training modules and so much more.

Common Core State Standard
SL.CCS.1/2/3/4 Grades 6-12: An essay of a current news event is provided for discussion to encourage participation, but also inspire the use of evidence to support logical claims using the main ideas of the article. Students must analyze background information provided about a current event within the news, draw out the main ideas and key details, and review different opinions on the issue. Then, students should present their own claims using facts and analysis for support.
FOR THE WEEK OF JULY 18, 2011
Harry Potter fans jam theaters for lavishly praised 'Deathly Hallows, Part 2'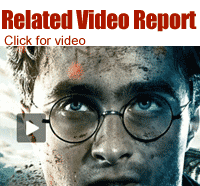 Finding a review and other reports on the blockbuster should be easy, so look for one with a quote or fact worth sharing.

Can you spot coverage about local fans or another hometown tie-in?

Does this paper have a contest, discussion forum or other interactive feature related to the movie?
Harry Potter latest wizardry is a record-breaking opening day at theaters, thanks to fans eager to see his final battle with the Lord Voldemort. The eighth film in an epic series, Harry Potter and the Deathly Hallows: Part 2, sold more than $92 million in U.S. tickets last Friday -- including $43 million at sold-out midnight screenings that attracted costumed loyalists.
Daniel Radcliffe and Emma Watson now are back as Harry and Hermione Granger in the second film based on a 2007 book. Many professional reviewers say it's the best of the series, with some suggesting it has a shot at a best picture Oscar. "Deathly Hallows Part 2 sends Harry off into the pop culture pantheon on a thrilling high note," Tom Long writes in The Detroit News.
Author J.K. Rowling's seven HP novels, which have sold more than 450 million copies since the first came out in 1997, led to the most lucrative movie series in Hollywood history. "Thank you, Harry!" says the current cover of Entertainment Weekly, a double issue on Pottermania. Spinoffs include a Universal Studios theme park in Orlando and video games, with a new title -- Battle of Hogwarts -- coming this month from Electronic Arts. And Rowlings announced recently that e-books of her fantasy series will become available this summer through her own site, Pottermore.com.

Fan says: "After being a part of something for so long, it's weird to be saying goodbye to it." -- Andrew Bates, Atlanta

Studio says: "It's mind-boggling, to be honest with you. This is writing history every day." -- Dan Fellman, Warner Brothers president of domestic distribution

Author says: "E-books are here and here to stay. It's miraculous for travel and for children in particular. I feel great about taking Harry into this new medium." -- J.K. Rowling in promotional video
Front Page Talking Points
is written by Felix Grabowski and Alan Stamm for NIEonline.com, Copyright 2017
We welcome comments or suggestions for future topics:
Click here to Comment
Front Page Talking Points Archive
►Get used to cars without drivers because they're starting to roll out of labs and onto streets
►Congress pushes social media firms to block foreign election mischief on their influential sites
►'Reckless, outrageous and undignified:' 3 Republican senators and an ex-president speak out about Donald Trump
►New evidence of huge stars colliding long ago excites astronomers
►'What Happened:' Hillary Clinton revisits Campaign '16 in her book and national tour
►'Democracy on the line:' Supreme Court considers what's legal when politicians redraw election district maps
►As Puerto Rico struggles after devastating hurricane, Trump feels backlash about pace of help
►Another climate change impact: Solidly frozen Alaskan permafrost is thawing
►Scientists urge changes to ease impact of what flows down the Mississippi River into the Gulf of Mexico
►Eye-opening new book explores how phones and tablets affect 'today's super-connected kids'