---
Additional Resources for Your Classroom


Find over 300 resources that include teacher guides, student supplements, teacher training modules and so much more.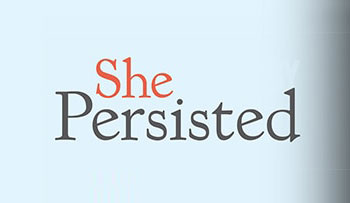 In this NBC Learn special collection, author Chelsea Clinton talks about some of the inspirational women included in her children's book, "She Persisted." Highlighted videos from the NBC News Archives feature stories of these American women who persisted in spite of difficulties and helped shape our country.
Chelsea Clinton on "She Persisted"
In an interview with NBC Learn, Chelsea Clinton talks about some of the inspirational American women featured in her children's book, "She Persisted."
---
Assistive Communications Technology
Helen Keller was born both blind and deaf, but she was able to read lips and communicate with her hands. Stephen Hawking, who suffers from ALS, is able to communicate through his computer because of the strides made in assistive communications technology. This story is produced by NBC Learn in partnership with Pearson.
---
"She Persisted" Becomes Rallying Cry After Senate Silences Elizabeth Warren
The Senate confirms Senator Jeff Sessions as President Donald Trump's attorney general. Meantime, Democratic Senator Elizabeth Warren is in the spotlight after Republicans silenced her criticism of Sessions on the Senate floor.
---
Margaret Chase Smith, a Declaration of Conscience
In 1950, during rising fears of communist infiltration, Senator Margaret Chase Smith delivered a speech to the U.S. Senate, speaking out against the political smear tactics of fellow senator Joseph McCarthy. This story is produced by NBC Learn in partnership with Pearson.
---
The Real Sonia Sotomayor
Justice Sonia Sotomayor, the third woman and the first Hispanic to serve on the Supreme Court, opens up about her family struggles, diagnosis with juvenile diabetes and what inspired her to become "the most important person in the room" in her new memoir.
---
Distributed by NIEonline.com with permission
About NBC Learn
NBC Learn is the educational arm of NBC News dedicated to providing resources for students, teachers, and lifelong learners. The online resources NBC Learn has created for the education community leverages nearly 80 years of historic news coverage, documentary materials, and current news broadcasts. Currently two offerings, NBC Learn K12 and NBC Learn Higher Ed, give students and teachers access to thousands of video clips from the NBC News archives, including great historic moments--from the Great Depression to the Space Race to the latest political coverage. NBC Learn also offers primary source materials, lesson plans and classroom planning resources, and additional text and image resources from our content partners. For more information, visit www.nbclearn.com.