---
Additional Resources for Your Classroom


Find over 300 resources that include teacher guides, student supplements, teacher training modules and so much more.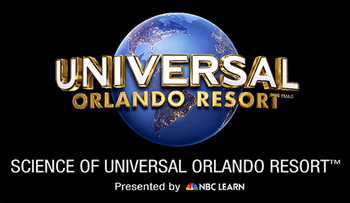 Unravel the thrills, chills and science of Universal Orlando Resort™ in NBC Learn's newest original series produced in partnership with Universal Orlando Youth Programs.
Science of Universal Orlando Resort™ - Skull Island - Reign of Kong™
Science of Universal Orlando Resort™ - Skull Island - Reign of Kong™ takes guests on an expedition into the heart of the jungle where King Kong rules. The ride vehicle travels in a specific path that helps blend reality with the virtual world as predators attack from either side.
---
Science of Universal Orlando Resort™ - TRANSFORMERS - The Ride-3D
In TRANSFORMERS: The Ride 3-D, attraction designers and show producers collaborate to create an immersive experience using the media and physical sets. The ride vehicle is engineered to use the six degrees of freedom, giving guests the illusion that they're flying through the Transformers' world, battling robots.
---
Science of Universal Orlando Resort™ - Revenge of the Mummy™
Revenge of the Mummy™ takes guests into a dark, ancient Egyptian tomb and then onto a high-speed indoor roller coaster. From the waiting line to the ride vehicle, the attraction is full of artifacts and details created by show set designers to entertain guests.
---
Science of Universal Orlando Resort™ – Jurassic Park™
Upon entering Jurassic Park™ at Universal Orlando Resort, guests are taken out of their daily environment and into a Costa Rican jungle. Thanks to the work of architects and landscape artists, the prehistoric theme is brought to life with detailed Jurassic Period plant species, including the ginkgo biloba tree.
---
Science of Universal Orlando Resort™; - Hollywood Rip Ride Rockit™
Hollywood Rip Ride Rockit™ is a thrilling roller coaster that takes guests 17 stories high at a 90-degree angle before going over a drop and reaching speeds of 65-mph. Engineers at Universal Orlando Resort rely on math and science, including physics concepts such as Newton's Laws of Motion and potential and kinetic energy, to design all the twists, turns and loops along the track.
---
Distributed by NIEonline.com with permission
About NBC Learn
NBC Learn is the educational arm of NBC News dedicated to providing resources for students, teachers, and lifelong learners. The online resources NBC Learn has created for the education community leverages nearly 80 years of historic news coverage, documentary materials, and current news broadcasts. Currently two offerings, NBC Learn K12 and NBC Learn Higher Ed, give students and teachers access to thousands of video clips from the NBC News archives, including great historic moments--from the Great Depression to the Space Race to the latest political coverage. NBC Learn also offers primary source materials, lesson plans and classroom planning resources, and additional text and image resources from our content partners. For more information, visit www.nbclearn.com.