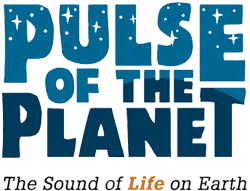 ---
Humans and Wildlife - Who's Protecting Who?
If you farm near a wildlife park, what's to prevent a buffalo from trampling your crops?
-- Aug 17, 2018
---
Elephants and Ivory
Famed anthropologist and conservationist Richard Leakey unveils his strategy to protect Kenya's elephants. This archival program is part of our 30th anniversary celebration.
-- Aug 16, 2018
---
A World-Class Gathering
The yearly migration of Sand Hill Cranes brings half a million birds to roost in Nebraska's Platte River.
-- Aug 15, 2018
---
Calling All Frogs!
A montage of vocalizations from around the world - and their variety will surprise you.
-- Aug 14, 2018
---
Disappearing Frogs - It's No Magic Trick
Are amphibians barometers of environmental change?
-- Aug 13, 2018
---
Each weekday, Pulse of the Planet provides a two-minute sound portrait of Planet Earth, tracking the rhythms of nature, culture and science worldwide and blending interviews and extraordinary natural sound.
►Get more info.
Distributed by NIEonline.com.