Common Core State Standard
SL.CCS.1/2/3/4 Grades 6-12: An essay of a current news event is provided for discussion to encourage participation, but also inspire the use of evidence to support logical claims using the main ideas of the article. Students must analyze background information provided about a current event within the news, draw out the main ideas and key details, and review different opinions on the issue. Then, students should present their own claims using facts and analysis for support.
FOR THE WEEK OF SEP. 21, 2009
3 prominent adults break behavior rules: Show respect, don't interrupt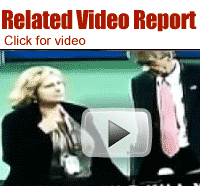 Though outrageous actions get attention, so do good deeds by ordinary folks or celebrities. Look for any item that shows generosity, helpfulness or compassion.

Columns with advice on manners and personal problems are a newspaper tradition, usually found in feature sections or blogs. See if you spot any guidance that applies to a situation or person in your life.

Athletes, entertainers and politicians sometimes do or say provocative things to draw news coverage. Any examples in recent issues or in your memory?
Careful where you look for lessons in manners these days. High-profile misbehavior popped up this month during a tennis championship, a video music awards show and even in the U.S. Congress. Obnoxious outbursts by athlete Serena Williams, singer Kanye West and a congressman named Joe Wilson caused head-shaking about role models acting badly.
The series of slips began Sept. 9 during a health care reform address to Congress by President Obama. When he vowed not to seek coverage for illegal immigrants, Rep. Wilson -- a Republican from South Carolina -- shouted "You lie." Three days later, Williams unleashed a profane tirade and advanced menacingly toward a line judge who called a foot fault during a U.S. Open semifinal match. The next night, West barged on stage at an MTV gala in New York while country singer Taylor Swift was accepting her Best Music Video award. The hip-hop star snatched the 19-year-old's microphone and told the audience Beyonce deserved to win.
After globally televised clips, public outcries and parody videos gave the missteps extended exposure, each wrongdoer voiced regret privately or publicly, The president "graciously accepted my apology, and the issue is over," said Rep. Wilson, who wouldn't apologize to colleagues because "there are far more important issues facing this nation." Representatives voted 240-179 to admonish him for a breach of decorum that "degraded the proceedings . . . to the discredit of the House." For his part, West apologized on Jay Leno's new TV show and called Swift. "I don't try to justify it because I was just in the wrong, period," he told Leno. "It was rude."

Lawmaker says: "When one of us, while seated in a formal session, severely violates the rules of this body by shamelessly hurling accusations of mendacity toward the president of these United States, our commander-in-chief, and refuses to formally express remorse, we at a minimum are duty-bound to express our disapproval." -- U.S. Rep. James Clyburn, D-S.C.

Serena Williams says: "Everyone could truly see the passion I have for my job. Now that I have had time to gain my composure, I can see that while I don't agree with the unfair line call, in the heat of battle I let my passion and emotion get the better of me and as a result handled the situation poorly."

Blogger says: "Civility is about creating a culture of mutual respect, not simply making sure that the biggest celebrity in the room has their moment. But Serena doesn't get that, and neither do Kanye or Joe. And that's why they can not or will not offer meaningful apologies for their bad behavior." -- Rabbi Brad Hirschfield, Washington Post 'On Faith' blogger
Front Page Talking Points
is written by Alan Stamm for NIEonline.com, Copyright 2017
We welcome comments or suggestions for future topics:
Click here to Comment
Front Page Talking Points Archive

'What Happened:' Hillary Clinton revisits Campaign '16 in her book and national tour

'Democracy on the line:' Supreme Court considers what's legal when politicians redraw election district maps

As Puerto Rico struggles after devastating hurricane, Trump feels backlash about pace of help

Another climate change impact: Solidly frozen Alaskan permafrost is thawing

Scientists urge changes to ease impact of what flows down the Mississippi River into the Gulf of Mexico

Eye-opening new book explores how phones and tablets affect 'today's super-connected kids'

As Houston works to recover from hurricane, possible role of climate change is studied

New approach for a persistent, costly U.S. challenge: What to do in Afghanistan?

Volley of threats between North Korea and U.S. cool down after tense exchanges

There goes the sun: Solar eclipse over U.S. next week is a big deal – and not just for astronomers

Complete archive