Common Core State Standard
SL.CCS.1/2/3/4 Grades 6-12: An essay of a current news event is provided for discussion to encourage participation, but also inspire the use of evidence to support logical claims using the main ideas of the article. Students must analyze background information provided about a current event within the news, draw out the main ideas and key details, and review different opinions on the issue. Then, students should present their own claims using facts and analysis for support.
FOR THE WEEK OF JAN. 18, 2010
Digital outreach and social media help Haiti earthquake survivors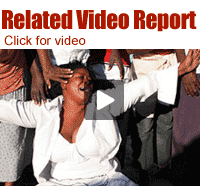 This foreign story has local impact. Look for reports about residents in your area or state who are Haitian, have family members there or have done charitable work on the island.

Find information about how to donate to relief efforts. Is there coverage of local appeals for assistance?

Some quake images and reports may seem gruesome. Discuss the role of newspapers in presenting balanced, accurate disaster coverage for a diverse readership. Are editors acting with sensitivity, particularly in choosing Page 1 photos?
Ordinary Americans are participating in the global response to help the Caribbean island of Haiti, devastated by one of the worst natural disasters ever experienced in the Western Hemisphere. A large earthquake last week left the capital city, Port-au-Prince, in ruins and caused thousands of casualties. The United States, dozens of other countries and major charities rushed to the rescue with troops, medical relief, shelters, food, water and other critical supplies.
Public appeals for contributions are tailored to the digital age, as shown by repeated presidential references to a list of Haitian relief groups at www.whitehouse.gov. The State Department helped the American Red Cross set up a mobile phone campaign that has raised more than $8 million dollars. Donors can give $10 at a time by texting the word HAITI to 90999.
Twitter and Facebook also are active fund-raising tools, with Haitian singer Wyclef Jean, other celebrities, charities and individuals posting appeals. Aid to Haiti was been one of the most active Twitter topics for days after the Jan. 12 quake, which measured 7.0 on a severity scale.
Social media also delivered live news from Haiti and served again as the first place where millions react to a large-scale catastrophe. Before journalists reached the island, CNN shared tweets, YouTube videos and photos posted on Facebook by survivors with wireless Internet access. The Associated Press set up a Facebook page and Twitter feed as part of its coverage.
And even with network and print professionals at the scene, social media remain an active forum for comments, appeals and inquiries about Haiti. President Obama referred several times last week to "our common humanity" -- a quality on vivid display at social media sites.

U.S. president says: "With just a few hundred miles of ocean between us and a long history that binds us together, Haitians are neighbors of the Americas and here at home. So we have to be there for them in their hour of need."

Twitter user says: "There's just something right about seeing Red Cross as a top trending topic during a time of need and devastation." -- Sarah Evans, New York public relations executive

Editor says: "By using Facebook and Twitter accounts to interact with our audience and learn more about what they want to know, AP will strengthen its already dynamic relationship with its member news organizations, other customers and news consumers throughout the world." -- Kathleen Carroll, Associated Press executive editor
Front Page Talking Points
is written by Felix Grabowski and Alan Stamm for NIEonline.com, Copyright 2017
We welcome comments or suggestions for future topics:
Click here to Comment
Front Page Talking Points Archive

'What Happened:' Hillary Clinton revisits Campaign '16 in her book and national tour

'Democracy on the line:' Supreme Court considers what's legal when politicians redraw election district maps

As Puerto Rico struggles after devastating hurricane, Trump feels backlash about pace of help

Another climate change impact: Solidly frozen Alaskan permafrost is thawing

Scientists urge changes to ease impact of what flows down the Mississippi River into the Gulf of Mexico

Eye-opening new book explores how phones and tablets affect 'today's super-connected kids'

As Houston works to recover from hurricane, possible role of climate change is studied

New approach for a persistent, costly U.S. challenge: What to do in Afghanistan?

Volley of threats between North Korea and U.S. cool down after tense exchanges

There goes the sun: Solar eclipse over U.S. next week is a big deal – and not just for astronomers

Complete archive