Common Core State Standard
SL.CCS.1/2/3/4 Grades 6-12: An essay of a current news event is provided for discussion to encourage participation, but also inspire the use of evidence to support logical claims using the main ideas of the article. Students must analyze background information provided about a current event within the news, draw out the main ideas and key details, and review different opinions on the issue. Then, students should present their own claims using facts and analysis for support.
FOR THE WEEK OF MAY 24, 2010
Final shuttle landing this week ends a manned space flight era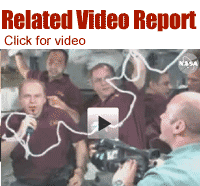 Watch for coverage of the historic mission's closing days. Also look for a commentary on an era's end.

Does the paper's website have a gallery of photos from this shuttle flight or links to video and audio clips?

NASA isn't recruiting astronauts, but still needs engineers. Hunt for other careers mentioned in the news, especially one that interests you.
The fact that six U.S. astronauts on Sunday wrapped up experiments and construction work 250 miles above earth on the International Space Station doesn't seem remarkable. After all, this is the 11th time Space Shuttle Atlantis has flown to the orbiting station and the 34th trip there by Americans since December 1998. But this third shuttle mission of 2010 is historic -- the last manned space launch NASA plans for an indefinite time.
The return of Atlantis from its 12-day mission, scheduled for Wednesday, ends a series of 132 shuttle launches over the past 29 years and one month. It marks a turning point in the epic saga of space flights by Americans, which began Feb. 20, 1962 with John Glenn's three orbits aboard a small capsule. Nearly half a century later, federal budget-tightening and dramatic advances in robotic space exploration are changing NASA's approach. U.S. crews still will help expand the Space Station, riding there on Russian Soyuz' spacecraft.
NASA now will focus on new technologies and rockets that could one day get astronauts to asteroids -- or even to Mars. But there are no formal plans for how the program will proceed in the post-shuttle era.
At the Kennedy Space Center in Florida, President Obama last month canceled a program to send astronauts back to the moon by 2020. One critic, Republican Sen. George LeMieux of Florida, says: "I do not look forward to explaining to my children why the Chinese are putting their flag on the moon over ours."

President says: "The challenges facing our space program are different, and our imperatives for this program are different, than in decades past. . . . We can't just keep on doing the same old things that we've been doing and thinking that somehow is going to get us to where we want to go." -- Remarks at Kennedy Space Center, April 15

Ex-astronaut says: "It would be a shame -- and a disappointment -- if we didn't find a way to continue our manned program. The astronauts and everyone interested in space are waiting to see what will happen next." -- Susan Still Kilrain, commander of two 1997 shuttle flights

Blogger says: "Most mainstream media outlets no longer have a dedicated space or science team. . . . The American public has allowed the relevance of the space program to pass them by. The media outlets are merely a reflection of the current values of the nation.." -- Jason Rhian at spaceref.com
Front Page Talking Points
is written by Felix Grabowski and Alan Stamm for NIEonline.com, Copyright 2017
We welcome comments or suggestions for future topics:
Click here to Comment
Front Page Talking Points Archive

Department stores and malls may be an endangered species as more of us shop online

Trump dismissal of FBI director James Comey will have long-lasting political and maybe legal fallout

'Smart driving' apps keep new motorists safety-conscious and keep parents more at ease

Symbolic benchmark: President Trump and others look at his first 100 days in office

Bleached-out coral, a climate change sign, alarms scientists for a second straight year

Reusable rockets save money and are likely to open a new era in space

Rhetoric and reality: Coal industry 'recovery' may be easier said than done

Upcoming repeal of federal Internet privacy safeguards will affect us all

Modern dinosaurs? Sears and Kmart, old school retail chains, may be doomed

President's budget starts debate over proposed military boost and deep cuts elsewhere

Complete archive