Common Core State Standard
SL.CCS.1/2/3/4 Grades 6-12: An essay of a current news event is provided for discussion to encourage participation, but also inspire the use of evidence to support logical claims using the main ideas of the article. Students must analyze background information provided about a current event within the news, draw out the main ideas and key details, and review different opinions on the issue. Then, students should present their own claims using facts and analysis for support.
FOR THE WEEK OF JUNE 07, 2010
Baseball umpire's imperfect call brings home winning examples of sportsmanship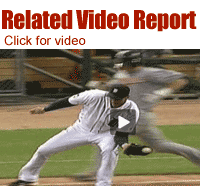 Look for another model of tolerance, understanding or other good behavior under stress -- whether by a public figure or an ordinary person.

Now try to find coverage of conduct or comments that seem selfish, immature or nasty.

See if fans and others still are discussing this in letters columns, reader forums or blogs.
We received a major league lesson in humility and grace last week from two men on opposite sides of a ninth-inning play at first base in Detroit. Armando Galarraga, a Venezuelan pitcher in his second year with the Tigers, had kept 27 Cleveland Indian batters from getting on base and was one out away from a perfect game -- a feat achieved just 20 times in more than a century of professional baseball, and never by Detroit. Then, on an infield grounder, umpire Jim Joyce called the runner safe -- a goof that brought tearful remorse when he saw a post-game video showing it wasn't even close.
Baseball's commissioner declined to reverse the call, though he praised the pitcher, fans and apologetic ump for showing dignity. Indeed, Galarraga's on-field smile and postgame comments immediately eased the tension. Crusty manager Jim Leyland later tried to console the anguished umpire and publicly urged fans to be compassionate, too. The next afternoon, he sent Galarraga to home plate with the lineup card, which the young pitcher graciously gave Joyce with a handshake. The veteran umpire teared up again as the crowd applauded.
The classy displays dazzled sportswriters, talk radio hosts and even the White House press secretary. "To watch an umpire take responsibility, to watch a pitcher do what he did -- that type of sportsmanship exhibited was tremendously heartening," presidential aide Robert Gibbs told reporters the next day. "Somebody made a mistake, somebody accepted that apology. It's a good lesson for baseball, perhaps a good lesson in Washington." Detroit News columnist Lynn Henning wrote: " Something more enduring than a near-perfect baseball game happened Wednesday night. Armando Galarraga, Jim Joyce, and Jim Leyland -- a pitcher, an umpire and a manager -- turned a supposed catastrophe into a sweet little parable."

Pitcher says: "Nobody's perfect. Everybody makes a mistake. I'm sure he didn't want to make that call. . . . He felt really bad." -- Armando Galarraga

Commissioner says: "I will examine our umpiring system, the expanded use of instant replay and all other related features." -- Bud Selig, commissioner of Major League Baseball

Columnist says: "What happened is still historic, and will end up even more famous and special because of how it happened, and how everyone reacted. . . . Galarraga is now a greater symbol of sportsmanship, for his genuine sympathy toward umpire Jim Joyce and his basic understanding of human error. " -- Bob Wojnowski, Detroit News
Front Page Talking Points
is written by Felix Grabowski and Alan Stamm for NIEonline.com, Copyright 2017
We welcome comments or suggestions for future topics:
Click here to Comment
Front Page Talking Points Archive

Get used to cars without drivers because they're starting to roll out of labs and onto streets

Congress pushes social media firms to block foreign election mischief on their influential sites

'Reckless, outrageous and undignified:' 3 Republican senators and an ex-president speak out about Donald Trump

New evidence of huge stars colliding long ago excites astronomers

'What Happened:' Hillary Clinton revisits Campaign '16 in her book and national tour

'Democracy on the line:' Supreme Court considers what's legal when politicians redraw election district maps

As Puerto Rico struggles after devastating hurricane, Trump feels backlash about pace of help

Another climate change impact: Solidly frozen Alaskan permafrost is thawing

Scientists urge changes to ease impact of what flows down the Mississippi River into the Gulf of Mexico

Eye-opening new book explores how phones and tablets affect 'today's super-connected kids'

Complete archive